5 Incredibly Major Jewelry Moments From the 2019 Oscars Red Carpet
AS REPORTED BY OUR FINE JEWELRY EXPERT, AMY ELLIOTT
Yes, there was an abundant supply of Bvlgari jewelry on the red carpet, making it the star of some of the night's most memorable looks, but the Oscars belonged to Tiffany & Co, whose world-famous Tiffany diamond made a rare public appearance on Lady Gaga.
That pendant, like Gaga herself, is in a league of its own, so we'll start our recap here, and then move on to some of the other completely stunning Oscars jewelry that caught our attention. Ready, set, glow!
LADY GAGA in TIFFANY & CO.
A history-making jewelry moment that only a superstar of Gaga's wattage could pull off: The Best Song winner arrived at the awards ceremony wearing the Tiffany diamond around her neck. The iconic fancy yellow diamond weighs a whopping 128.54 cts. and has not left home since 1961 when Audrey Hepburn wore it for Breakfast at Tiffany's promotional photos. Worn as a pendant hung from a necklace of cushion-cut and round brilliant white diamonds, this was the most talked-about jewel of the night.
CHARLIZE THERON in BVLGARI
Newly brunette, the actress went for sophisticated, high-necked, backless glamour in a Dior gown with an arsenal of Bvlgari jewels: two necklaces (one was a supersized version of the house's iconic Serpenti design featuring nearly 80 cts. of diamonds), two bracelets, five rings and a pair of earrings with diamonds, emeralds and 25.58 cts. of step-cut sapphires.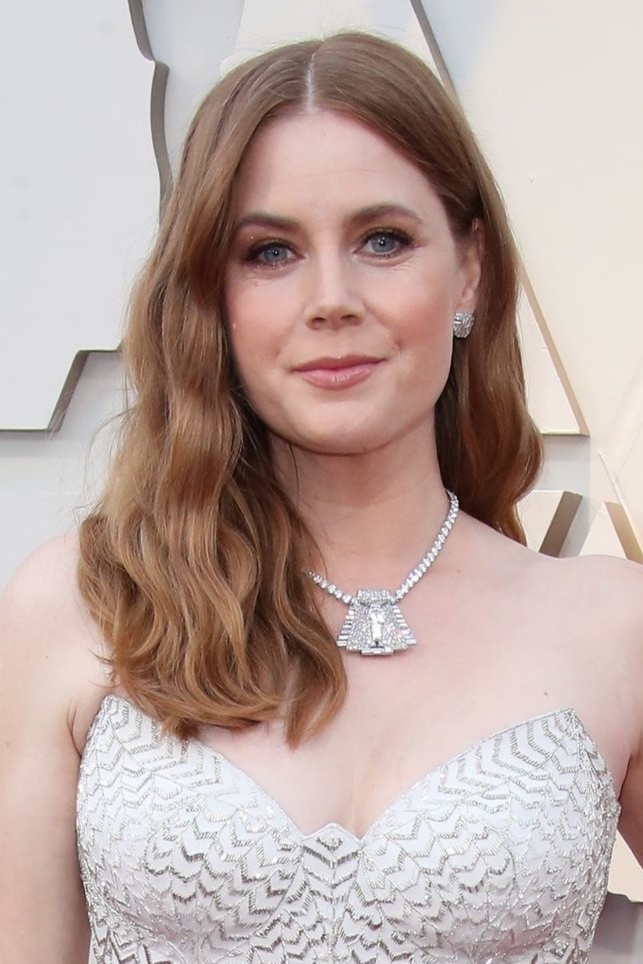 The Best Supporting Actress nominee frequently wear Cartier at red carpet events and chose a very special piece to wear with her Versace gown: A high jewelry diamond tennis necklace with the Paris Pyramid brooch, a gorgeous Art Deco-era design originally commissioned in 1935, as its centerpiece.
Enveloped in tiers of fuchsia silk ruffles of Valentino Haute Couture, the Crazy Rich Asians star wore Bvlgari's Divas' Dream high jewelry earrings—one with emeralds and diamonds, one with sapphires and diamonds—along with a bracelet made with more than 27 cts. of diamonds and an emerald ring accented with diamonds and rubies.
Stylist Danielle Nachmani has been dressing the BlackKkKlansman star in Bvlgari jewels all awards season long and the Oscars was no exception, pairing Harrier's light blue Louis Vuitton gown with a high jewelry necklace and bracelet featuring emeralds, rubellites and diamonds. Where sapphires might have been the logical choice, the pops of green and deep pink made the look feel youthful, modern and entirely unexpected.