GOLDEN GLOBES 2019: Fresh Direct
AS REPORTED BY OUR BEAUTY EXPERT, DANA WOOD
So much newness! So little phoning it in! We were seriously impressed with the innovative next-levelness of the hair and makeup at the Golden Globes, the official – if boozy – kick-off to awards season. From rainbow-hued eyeliner to dyed-to-match-the-dress locks, we haven't seen a red carpet this colorful in years.
Below, our top 10 looks.
Lady Gaga: A Thing of Blue-ty
Hello? She rocked it. And that was before Gaga claimed her much-deserved little gold guy for "Best Original Song." Taking a cue from the singer's cerulean blue Valentino gown, hairstylist Frederic Aspiras deployed a fleet of Joico products and ghd tools to craft an updo that was equal parts Brigitte Bardot and Marie Antoinette. With a twist, of course – that mesmerizing pale blue hue.

Jodie Comer: Softly Speaking
It isn't easy to step out of Sandra Oh's shadow, but "Killing Eve" breakout star Jodie Comer managed to draw focus pretty easily Sunday night. How? With a stunning combo pack of feathery brows, mega winged liner and rosy cheeks. Paired with a softly undone updo, the effect was captivating.
Rowan Blanchard: Pixie Perfection
Channeling a posse of cropped- coif icons (Mia Farrow, Natalie Portman and Edie Sedgwick among them), hairstylist Laurie Heaps lopped nearly nine – nine! – inches off Blanchard's locks before styling with Ouai Matte Pomade, Chi Spray Wax and a ghd dryer . "I didn't want to re-create past pixies," Heaps noted. "The look needed to be bolder with more attitude, more edge." Mission accomplished.
Yes she's Spanish, but Penelope Cruz is an ambassadress for one of the biggest French beauty brands on the planet (Lancôme), and for the Globes, her very British makeup artist – the inimitable Charlotte Tilbury – was angling for an Italian vibe. "It is always a such a dream to work with my beautiful, magical friend Penelope," Tilbury said. "She is the ultimate Dolce Vita icon with her flawless, glowing skin, hypnotizing eyes and pillow-pink lips." What better way to spotlight all that than with a "peachy, bronzey-golden, molten" smoky eye? Muy caliente.
Attention, brides around the world: the bar on topknots has been officially raised. Wait – was it actually a bun? A classic updo? A topknot-bun-updo mashup? Carson's hair look was so otherworldly that it almost deserves its own new name and category. We heart, big-time, that it was paired with swoopy, substantial bangs. Vive la difference, bébé.
Emily Blunt: Double Dutch
When it came to concocting an eye-catching 'do for Mrs. John Krasinski, no less than Joan of Arc served as inspo for hairstylist Lainie Reeves, "Emily's dress was intricately designed and textured, so we aimed to replicate a textured look in her hair as well," said Reeves, who used a fleet of The One by Frédéric Fekkai products and FHI tools to achieve her goal. "The Dutch braid, also known as a fish tail, was the final look we landed on because it showed femininity but with an undone texture." Bonus: the twinkling Neil Lane vintage jewels anchoring the two braids at the back.
Julia Roberts: Agelessness In Action
How is it possible that Julia Roberts looks even younger now than she did 20 years ago? And not in a "Botoxed within an inch of a life" way either. Rather, the "Ben is Back" babe and Lancôme ambassadress appeared fresh, frisky and happy at the Globes, and a lot of that had to do with makeup artist Jillian Dempsey's stellar handiwork. "I was influenced by Julia's choice of the Stella McCartney trouser-dress," said Dempsey. "It's strong and pretty and I wanted a makeup look to match." Translation: Bold brows paired with petal-pink cheeks and lips.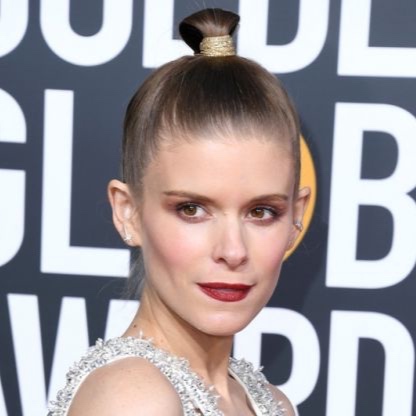 Eyes up here, please. While Mara may have been literally busting out of her Miu Miu, we chose to zoom-in on that stellar topknot, executed with extreme precision by hairstylist Ryan Richman. After slicking her strands with OGX Liquid Pearl Shine Serum, Richman swirled the whole scenario with gold glitter twine. All of sudden – bam! – major Mara cheekbones emerge.
Gemma Chan: Drop-Dead Red
Girl's on fire, and it's not simply because of the elegant crimson kisser the "Crazy Rich Asians" star sported on the red carpet. Paired with a wispy, ultra-femme bun (courtesy of hairstylist Clariss Rubenstein for Marc Anthony True Professional), Chan delivered a serious knockout punch.
Sandra Oh: V for Versatility
Between the awards-hosting and the award-winning, It was Oh's night. But we'd also like to give a solid round of applause to Ted Gibson, her mane man. Gibson and crew switched it up, big-time, over the course of several hours, pinging back and forth between loose and free-flowing, scraped-back and a charming half-up scenario. Of course it doesn't hurt that Oh has naturally thick, luscious locks. Of course she does.