10 Questions with Designer Daphne Newman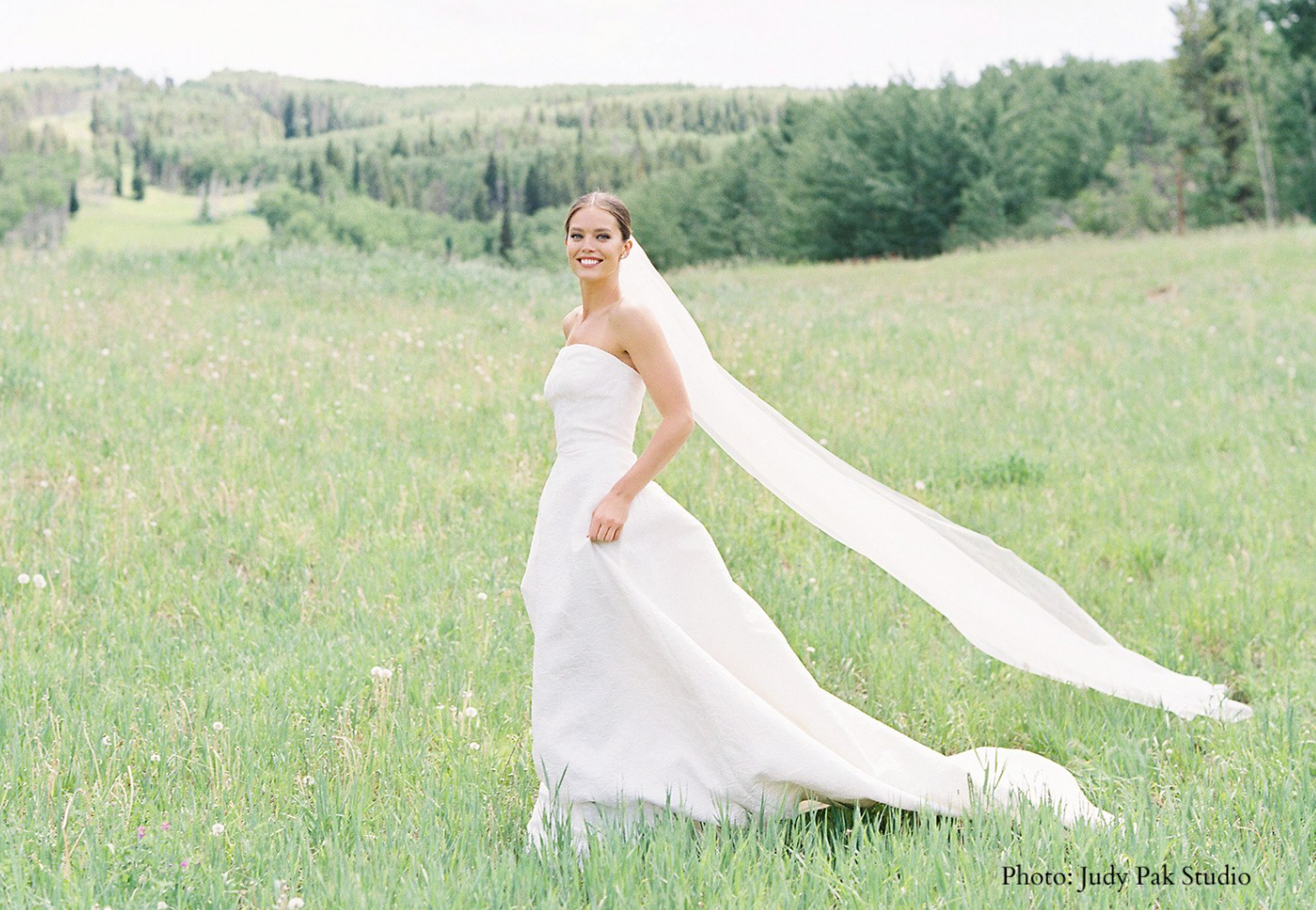 1. How did you get into veil design.
I actually started in evening wear and bridal gowns back in the late 1980s. During this time I noticed a huge gap in the market so I started focusing on accessories in general: head pieces, veils, combs, hats, etc. When we re-launched the brand a few years ago, I noticed there was still a missing link between the beautiful gowns and accessories. Nothing pains me more than to see a gorgeous gown, made with the most beautiful materials finished with poor quality accessories. The veil is the defining accessory of the bride and such an important element that I wanted to focus almost solely on that. My goal is to offer well thought out, timeless designs that will not only bring the entire look together but also serve as an heirloom for the bride to pass down -- something we don't often find in our era of fast fashion.
2. What are some unusual places that you have travelled to in search of fine silk and lace?
Our semi-annual sourcing trip has taken us all over North America, Europe and the Middle East. From the countryside in France to the suburbs of Florence, however the most unusual would probably be the hidden side streets of the old city in Istanbul. These small suppliers are hidden gems and it's often hard to recall just exactly where they are located when we return.
3. What is the process like when working with brides for the Bespoke Experience to design custom pieces?
The custom process is very, very involved. We spend weeks, and often months working one on one with our brides on every detail of their design. From the sketch to the initial layout, flying in lace from overseas, fabric consults, swatch delivery- it is a lot, and sometimes more time than they spent on their gown. Often, we don't get to meet them in person so this translates into many FaceTime/Skype calls at all hours of the day/night due to varying international time zones. Daphne just recently had a FaceTime call with a bride after she received her veil to walk her through the best way to wear it in her hair. We truly believe this attention to detail and service is imperative not only when working from a distance or the price point, but also when the bride is investing so much time to make it so special. It truly is a bespoke, highly tailored one on one experience. We also try to coordinate our travel schedule to meet our bespoke brides if possible, for either a final fitting in NYC, or delivery of their piece- we love it when it works out.
4. How does the fragility of the fabrics you use impact the details and how they are made into unique pieces?
Working with delicate, couture fabrics is quite literally the definition of 'slow fashion'. Each piece is made by hand in my studio, which gives lots of flexibility with the design. Most people don't know that the majority of the lace I use comes in full pieces of fabric, and then I carefully hand cut the appliques to build the design. I will often use appliques from different laces on a piece to create different shapes and textures. I have a lot of creative freedom this way and the possibilities are endless.
5. Have you seen a change in the use of veils by brides today, whether it's the popularity of certain styles or a general decline/incline in use?
Yes we definitely have- I think the damage the 80's did with all their maximum volume, polyester tulle is finally starting to fade. We have really noticed brides paying attention to the details of their wedding, and wanting to invest in something they can pass on. The wedding veil being the defining accessory of the bride is the perfect heirloom piece. The fact that they have full reign on customizing it is something they really appreciate, and they love being so involved in the process because it makes its truly unique to them and their day.
As far as styles go, we have definitely seen a drop in the traditional lace edged veil with this generation of brides. If they are using traditional lace, it's in a modern, more abstract design as oppose to the edge. Florals are certainly not going anywhere, and our Rosalia and Fiorella are by far our bestsellers- they are so feminine and romantic. Lastly, pearls are back and in a big way! We are constantly updating and adding to our collection, and many of our veils have been inspired and named after our brides!
6. What kind of brides do you have in mind when designing?
We focus on the detailed oriented bride - the ones who appreciate quality. They are confident and want to be unique, having their style and personality shine through while remaining classic, and feminine.
7. Do you share the stories behind the materials with the brides who wear your designs?
Always! We love sharing stories with our brides about where the materials came from. We use a lot of small cuts for custom pieces, so often that lace will never be seen again which is really special. We truly hope that eventually the bride will share her story of the piece and how it came to life when passing it down. Sometimes that is the best part of an heirloom is the story behind it and that is what we are trying to do.
8. How is working as a mother/daughter team in support of the Daphne Newman brand?
How much time do you have? (Kidding)
To be honest, I could never have imagined in my wildest dreams that the little girl who used to watch me sew from her play pen would be my business partner 30 years later, and helping me take this brand to levels I could only have dreamed of. She grew up visiting me at work (her grandmother's specialty fabric store which is still in business to this day) so it's pretty cool how her childhood and my business have come full circle. Our perspective is very unique, because I have all the technical knowledge of the fabrics, the techniques, machines, production. Although I am the designer and head creative I am able to get her perspective, as she has an intimate understanding of the modern bride and sometimes we see things very differently. She has a degree in international business so she handles all the marketing, PR, digital, sales, etc. which lends perfectly to her skill set, and compliments mine.
9. What is an example of a story behind the materials you learned during your travels?
We have learned that each country is known for something. France for Chantilly lace, Turkey for embroidery, India for embellished beaded trims and Asia for silks. We work directly with suppliers in each area depending on what we are after.
The source and travels accompanied by our search for is often only the beginning of the story. I rarely show up at a fabric store know exactly what I am looking for because I am so inspired by the materials, the city, it's culture and their textile traditions- so many things. Often the design is an evolution of all of these aspects and what I share with my brides when I tell them where a lace came from or how the design came to be. Sometimes I will find a lace and be so inspired by it I build a piece specifically for it, which is how my Frida (black veil) came to life.
10. How often are you traveling to search for these high quality materials?
We make a trip overseas, to Europe and the Middle East twice a year, usually January/February and then again in August/September. It is very important for me to touch and feel the fabrics, pictures are only half the story. In between those times though we have a number of suppliers who send us swatches, and we send them inspiration and designs if we are looking for something specific. Needless to say, there is a constant flow of new fabrics and laces especially with all our custom brides!