COME MEET THE EXPERTS!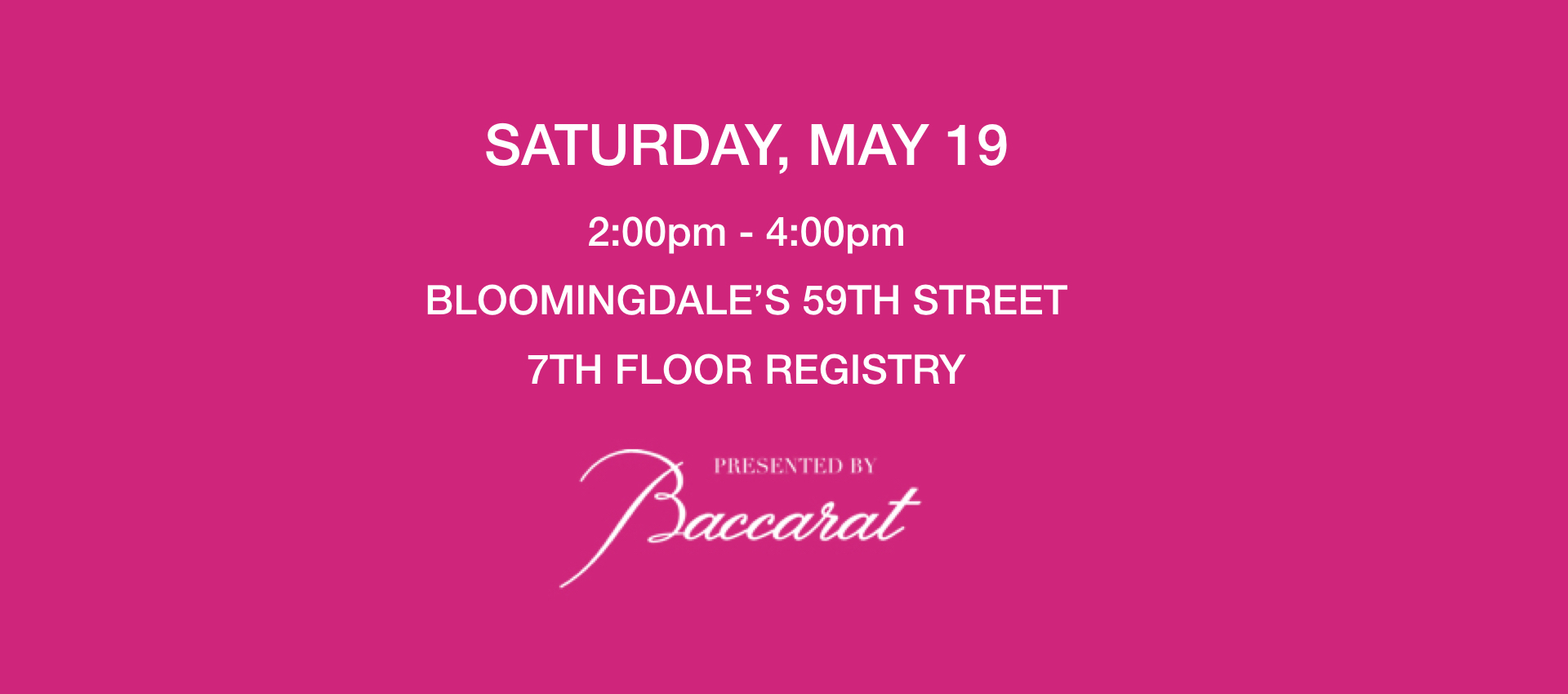 Guests will be able to meet with experts in a variety of categories: dress designers, accessory designers, magazine editors, wedding & honeymoon planners and many more, while they enjoy special cocktails, samplings of cakes, biscuits & tea, scotch tastings and creating memories in our photo booth - PLUS guests will receive a complimentary gift bag with a $250 Kleinfeld Bridal gift certificate and copy of the book, Martha Stewart Weddings: Ideas & Inspiration.
Everyone attending will also have the chance to enter to win some fantastic gifts:
$2,500 gift card towards the purchase of an Anne Barge gown at Kleinfeld Bridal.
An evening of shopping at Stuart Weitzman for you and your friends, courtesy of our friends at C Weddings. The winner will receive a complimentary handbag or pair of shoes and each of the winner's guests will receive a 20% discount on their evening's purchase.
AMSALE
Margo Lafontaine, Design Director
ANNE BARGE
Anne Barge, Founder
INES DI SANTO
Ines Di Santo, Designer
ANGEL SANCHEZ
Angel Sanchez, Designer
REGIStry:
THE ROYAL DISH
PRESENTED BY MARTHA STEWART WEDDINGS
Darcy Miller
Editor-at-Large
Anthony Luscia
Special Projects Editor
BEAUTY:
SECRETS TO LOOKING YOUR BEST ON YOUR BIG DAY
PRESENTED BY MODERN LUXURY WEDDINGs, SISLEY PARIS and daphne newman
MODERN LUXURY WEDDINGS
Phebe Wahl
Editor-in-Chief
YVES DURIF OF THE CARLYLE
Yves Durif
Legendary Hair Stylist
SISLEY-PARIS
Julio Albeloj
Makeup Artist
DAPHNE NEWMAN
Luxury Bridal Accessories Designer
STYLE:
C WEDDINGS STYLE GUIDE FOR EVERY BRIDE

PRESENTED BY C WEDDINGS
EVENT PLANNING:
HOW TO CREATE THE PERFECT WEDDING
MICHELLE RAGO DESTINATIONS
Michelle Rago
Global Destination Expert
BELLE FLEUR NEW YORK
Meredith Waga-Perez
Floral Designer
TRAVEL:
HOW TO PLAN THE PERFECT HONEYMOON
THE TRAVEL SIBLINGS
Kara Bebell
Travel Planning Expert
THE TRAVEL SIBLINGS
Harlan Bebell
Travel Planning Expert
AFAR
Katherine Galeotti
Travel Editor
WEDDING PARTY GIFTS:
create custom jewellery for you and your WEDDING party
LINKS OF LONDON
Iconic British jewellery and watches
STYLE FOR HIM:
LEARN EVERYTHING A GRoOM NEEDS TO KNOW FOR HIS BIG DAY
THE PLUNGE
Alex Dulac
Founder
KNOT STANDARD
Knot Standard Experts
Custom Menswear Consultants
Book an appointment for the gown of your dreams at one of our participating retail members: