Simona Greco, Exhibition Director of SI Sposaitalia
1. Why should American buyers attend SI Sposaitalia?
SI Sposaitalia is constantly evolving, giving buyers greater excitement and stimulation for new ideas. This year we've launched the first edition of Sì White Carpet by Sposaitalia Collezioni: A capsule collection show featuring well-known prêt-à-porter designers such as Marras, who will be working with the Bellantuono Bridal Group. Also participating is Musani Couture along with Stefano De Lellis and Tosca Spose with the LeitMotiv duo. This challenge of style is conceived through the idea of combining the innovative tenets of prêt-à-porter with those of the formal wear sector. I should add that only here is it possible to enjoy collections exhibiting typical Italian taste - which stands out for their quality of materials, tailoring and design - alongside great international presentations.
2. The American bridal market is gigantic. How does your market see the American bridal customer?
It's difficult to sum up our perception of the American consumer in just a few words. As you mentioned yourself, the U.S. has a gigantic market that encompasses several targets with differing characteristics. Our target consumer is undoubtedly in the medium-high segment, ultimately able to appreciate the qualities of everything that's "beautiful and well made," as we say here in Italy.
3. Many small American retailers do not have large budgets or have already completed their buying for the season. Is there a reason they should shop SI Sposaitalia?
American retailers should come to witness something new they won't find at American Bridal Fashion Week. Italy is infamous around the world for fashion in all its forms; from haute couture to prêt-à-porter, shoes, eyewear, wedding dresses and fashion accessories.
4. How are the exhibitors at your show equipped to accommodate the American bridal market?
Many of them already work with the American market and the other brands are interested in also breaking into that market. We support our companies in this context and act as tutors on their behalf, regarding them as partners with whom we can make decisions and take on the challenges of internationalization together.
5. What are your goals and objectives for your bridal brands?
Our bridal brands all work effectively with the Italian and European markets however, they want to grow and broaden their horizons. The Italian market in this sector is changing too with many companies showing growth. I am fond of mentioning the Nicole Fashion Group which in the span of 20 years, has transformed from a small provincial player into an international group present in 52 countries through 1,000 official distributors. Not everyone can match this rate of growth, but there's certainly the will to move up to the next level.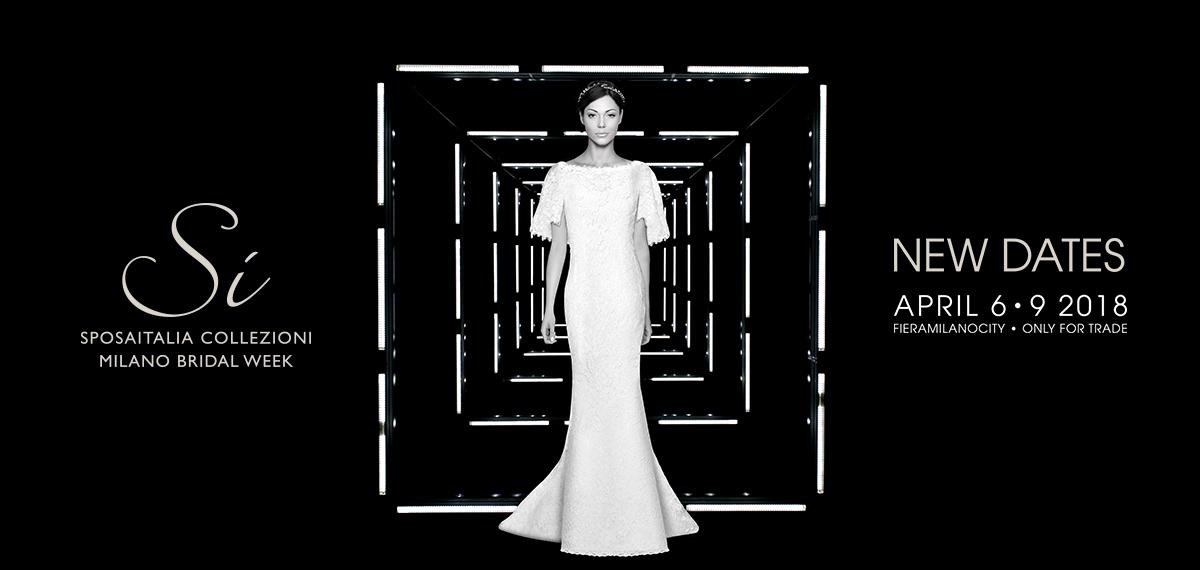 6. What kinds of marketing and advertising is done to support SI Sposaitalia?
We use all communication tools available from advertising in industry magazines, as well as strongly investing on the digital side with activities in social media. We also hold events on the ground. During the last Milan Fashion Week, we set up an open-air photography exhibition in the center of Milan focusing on the theme of marriage from the 17th Century to the present day.
7. For exhibitors participating in yours show, what opportunities will they have?
Our exhibitors have the opportunity to meet speciality buyers from 68 countries, and above all else, become co-stars in a bridal week full of events that bring the city to life. Every year during the trade show we also offer our exhibitors the chance to organize fashion shows in a refined venue.
8. What is the sentiment for American products, given the current political climate? Do you think that American brands will be embraced at SI Sposaitalia?
Buyers who haven't had the chance to visit American Bridal Fashion Week, where American brands have a much greater presence, are undoubtedly curious to meet and speak face-to-face with representatives from these companies. As I was saying earlier, SI Sposaitalia is an ever-changing event, and increasing the participation of American brands is a great goal for us to pursue.
9. How many overall exhibitors do you expect at SI Sposaitalia?
We have about 210 collections, including bridal for bridegrooms, accessories, formal wear and occasion wear.
10. How many American exhibitors do you expect at your show?
Four American exhibitors are expected at our show thus far.
11. What are the top five brands showing SI Sposaitlaia?
These are our top brands showing this year - Antonio Riva Milano, Blumarine Sposa, Carlo Pignatelli, Cymbeline, Elisabetta Polignano, Justin Alexander, Maison Signore, Musani Couture, Nicole Fashion Group, Tosca Spose and Watters.
12. What are the top 5 European brands showing at your show?
Our top European brands include Charlie Brear, Leila Hafzi, Linea Raffaelli, Marylise Rembo, Sonia Peña and Sophie et Voilà.
13. What was the rationale for moving Si Spositalia up on the show calendar?
This was due to a rapid response to changes within the industry. Following strong signals from the market and from our exhibitors, we decided to showcase to the market at the best possible time to maximize business opportunities. This in particular applies to Italian companies, which will once again have the opportunity to come to the point of reference for international bridal fashion.