Let's Talk About Gwyneth's Engagement Ring
In the empowered woman way of 2018, Gwyneth Paltrow controlled the breaking news about her engagement to television writer Brad Falchuk. The love story was formally announced in the second print edition of her Goop magazine. For a black and white photo spread on the inside of the issue (seen above), Gwyneth posed with Brad and positioned her left hand around him in a way that perfectly showed off her new engagement ring.
The image revealed the fact that the ring was, well, huge. It was clearly a colored center stone as opposed to a diamond. Micro-pavé diamond work appeared to be all over the blackened metal band, on the gallery underneath the gem and on the substantial prongs holding the large stone.
All these design details are the earmarks of JAR jewels designed by Joel Arthur Rosenthal, the elusive and talented American who lives and works in Paris. He only creates a limited number of pieces a year for the clients he hand-selects. Gwyneth has long been a fan and collector of JAR. In fact, she loaned some of her treasures to the 2014 exhibition at the Metropolitan Museum of Art in New York, Jewels By Jar.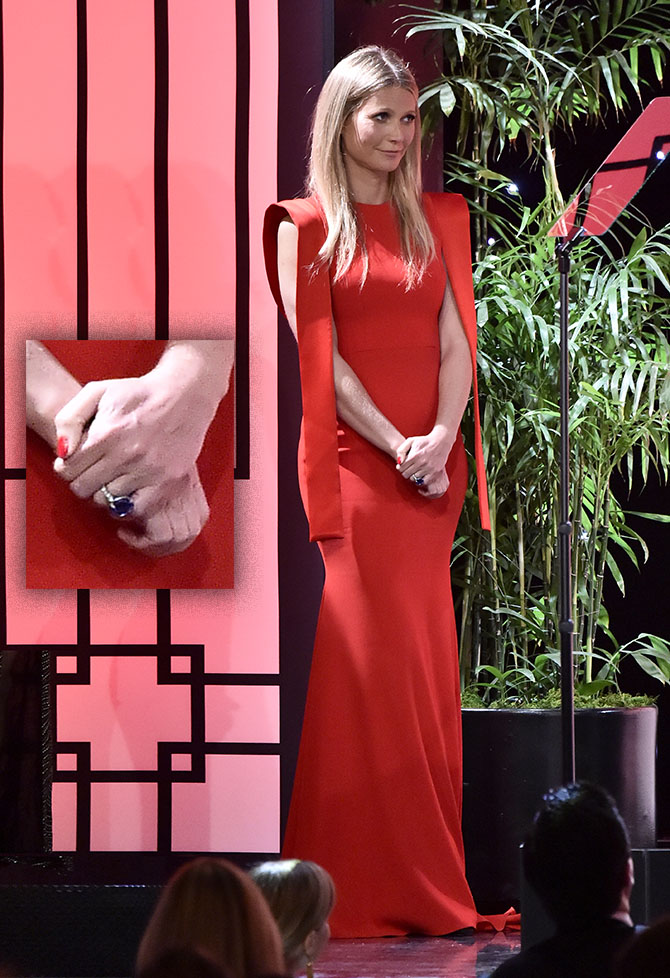 Paltrow's engagement ring is similar in style to the JAR Thread ring that once belonged to Ellen Barkin. Just look at the profile and overhead views of Barkin's design sold at Christie's with her collection of jewels on October 10, 2006. There are strong similarities in the details.
When Gwyneth attended the 29th Annual Producers Guild Awards at the Beverly Hilton Hotel on January 20, naturally she was wearing the ring. This first public viewing revealed the gem at the center of the design is blue. Seems safe to say, it's a sapphire. The metal appears to be white and if its JAR that means it is most certainly platinum.
While I think it is unlikely Gwyneth is going to give more detail on the ring from her fiancé and say for sure if it is JAR or not, you never know. Our age is becoming as transparent as it is empowered.