Fall '19 Bridal Beauty: In Living Color
AS REPORTED BY DANA WOOD, BEAUTY DIRECTOR
Here's the thing about bridal beauty: applied by makeup artists who really know what they're doing, bright pops of berry, coral and red can be a bright white wedding gown's best friend. And when the frock itself is in color – a directional trend we saw peppering a handful of shows – a punched-up version of "no makeup makeup" can prove a stunning counterpart.
Which isn't to say that the hair wasn't strong this season. From soft twists and towering 'fros to artful placement of bobby pins and woven cord, the locks rocked.
Below are our top looks.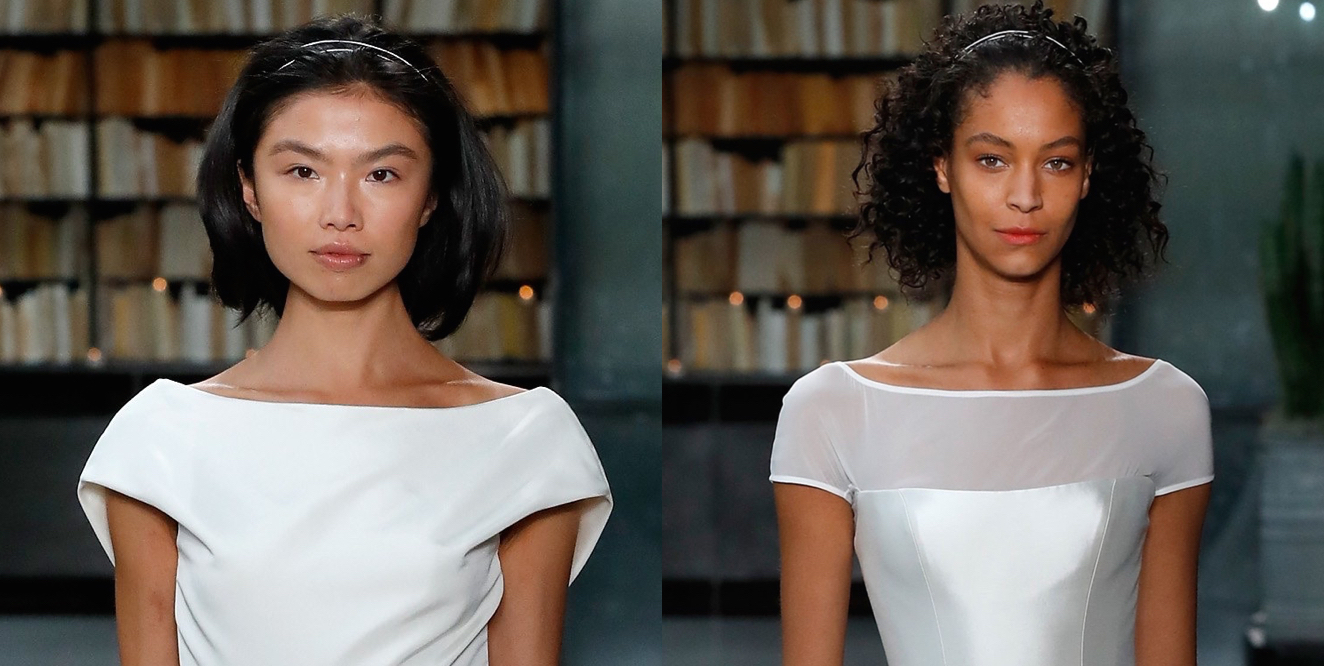 So minimalist and streamlined, one could imagine the late, great Carolyn Bessette-Kennedy wanting to get her mitts on some of this talented designer's modern silhouettes. As for the beauty, it was very much "just do you." Knockout natural, in other words. The hair, led by Ashley Rubell, was sometimes poufy and always textured, scraped back with just a tiny soupçon of headband. The "you, but better" no-makeup makeup, by Tiffany Patton and her talented team? Think blocky "statement" brows and putty, stone-hued shadow.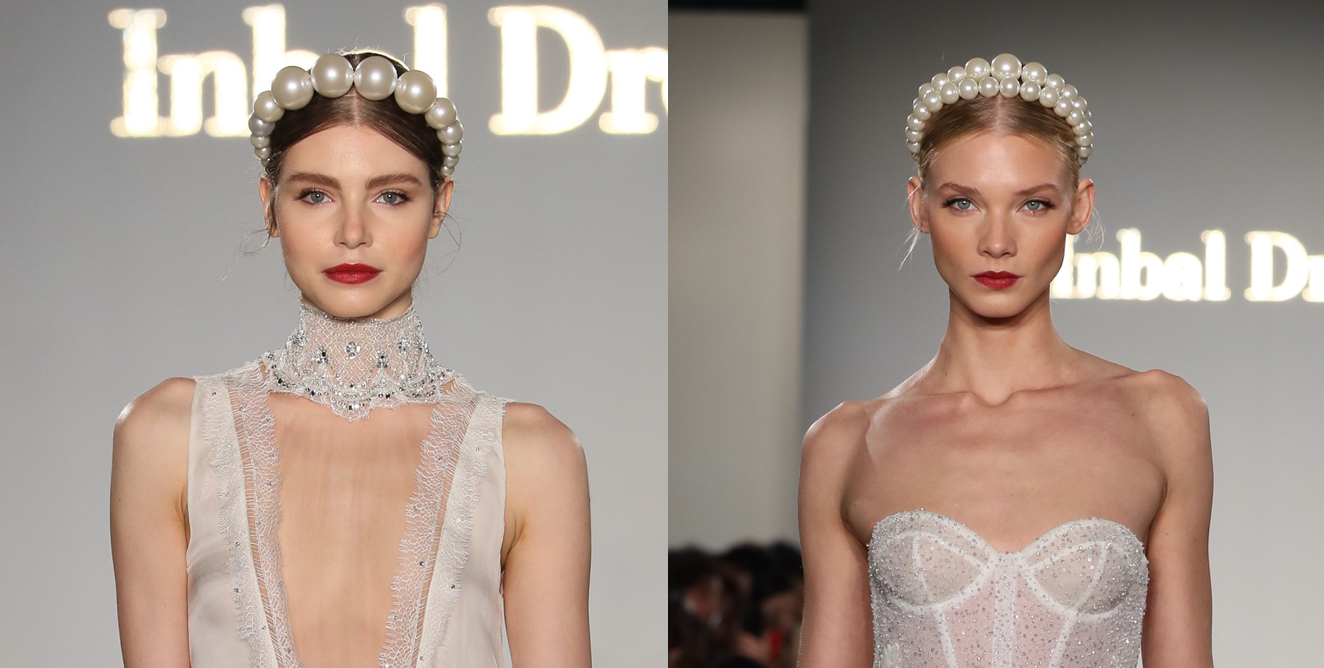 INBAL DROR: Girl with the Pearl Headband
Dror drew inspiration from Capri and the Mediterranean Sea, but those scene-stealing Keren Wolf headpieces had us thinking of a certain wildly famous Vermeer painting. Hairstylist Liz Rhodes for Spoke & Weal Salon opted for center-parted, low-slung pony-braids as a base for those killer, jaw-breaker sized beads – a smart choice. As for the maquillage, makeup artist Samantha Agostino paired lush berry lips with a playful dash of kitten liner and a wisp of seafoam shadow.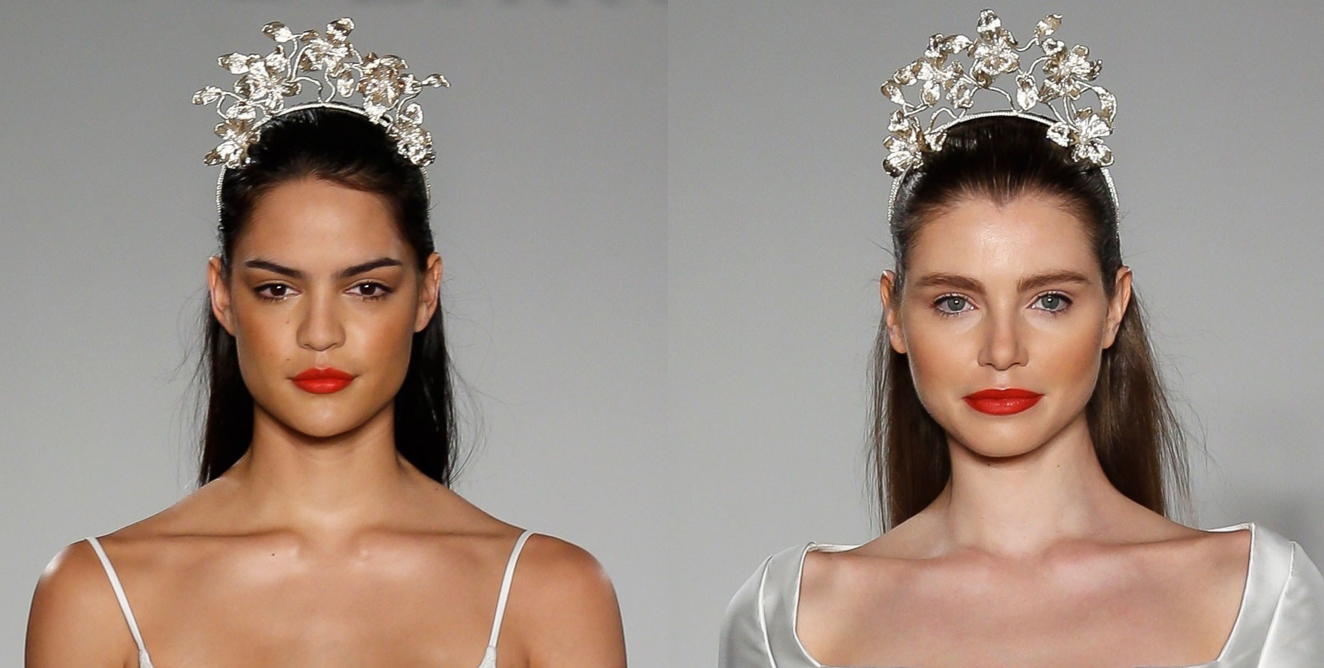 The casting director for this show had a singular vision in mind: models with extremely long locks. That way, hairstylist Emily Luciano for Samantha Agostino Elite could work her magic, crafting graphic, ironed-straight half-up wraps that set the stage for Colette Malouf's lacy cobweb earrings and fanciful headpieces. In a mix of ladylike and playful effects, makeup artist Samantha Agostino paired matte cherry lips with spiky lashes, tawny cheeks and heavy, feathery brows. The eyes themselves? They looked so bright one suspects a bottle of Lumify was making the rounds backstage.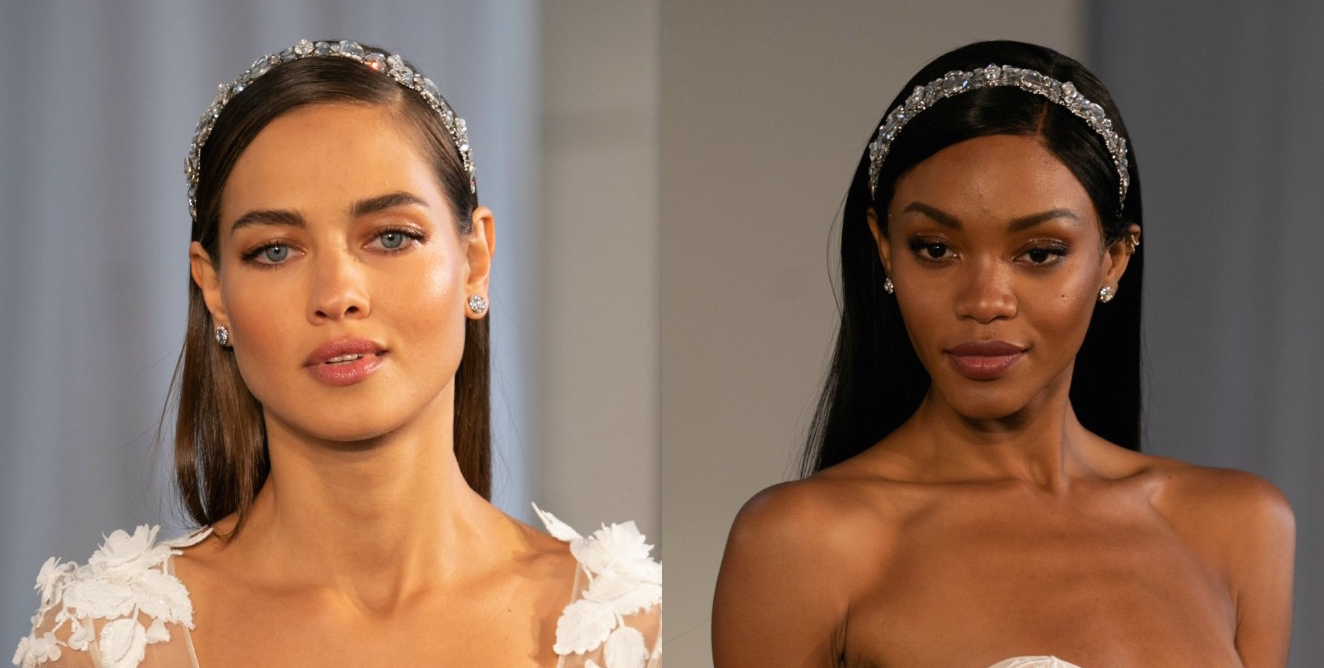 In keeping with Berta's figure-hugging, va va voom vibe, the beauty at this show was equally sleek and sexy. For hairstylist Naeemah LaFond for Amika, it was all about simple, stick-straight locks to support Maria Elena's ultra-twinkly headpieces. For makeup artist Charlie Riddle for Stila Cosmetics, a palette of tawny nudes for the eyes and cheeks was balanced by mauve-y, pinky-purply lips. This collection was inspired by Athens, and true to its mission, the hair and makeup were hot.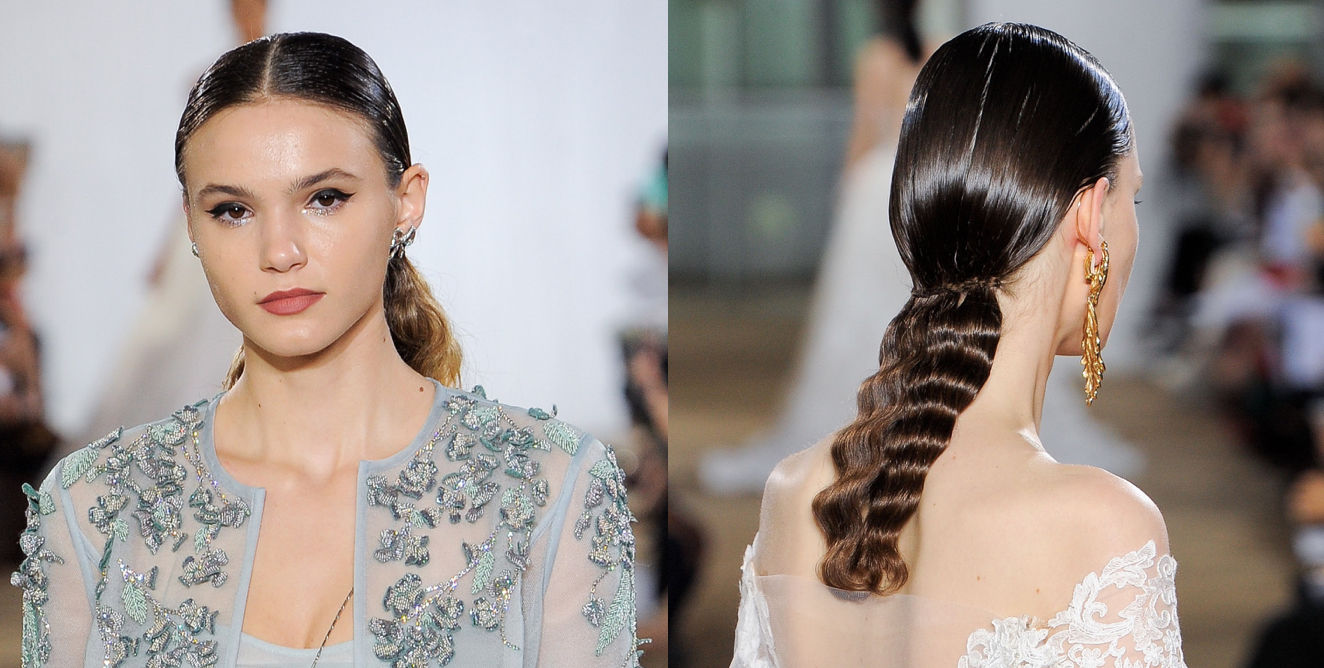 INES DI SANTO: Princess-Perfect
It doesn't get much more dramatic than this fairytale-themed show. Held in the cavernous lobby of the IAC building on the far West side of Manhattan, with immense video screens enveloping the space, it was a slam dunk for showcasing Di Santo's swoon-worthy gowns. Now for the beauty. Frankly, it was among the best of the season. But when Peter Gray is designing the hair, how could it not be? After slicking back each model's locks, Gray's team wove a bit of cord at the nape, then crimped the bottom, creating both dimension and massive shine. As for the makeup, Tia Hebron for Bobbi Brown Cosmetics added sparkles below the eyes, which were punctuated with winged liner, and bounced between a diverse palette of pinks for the lips. Berry, berry pretty.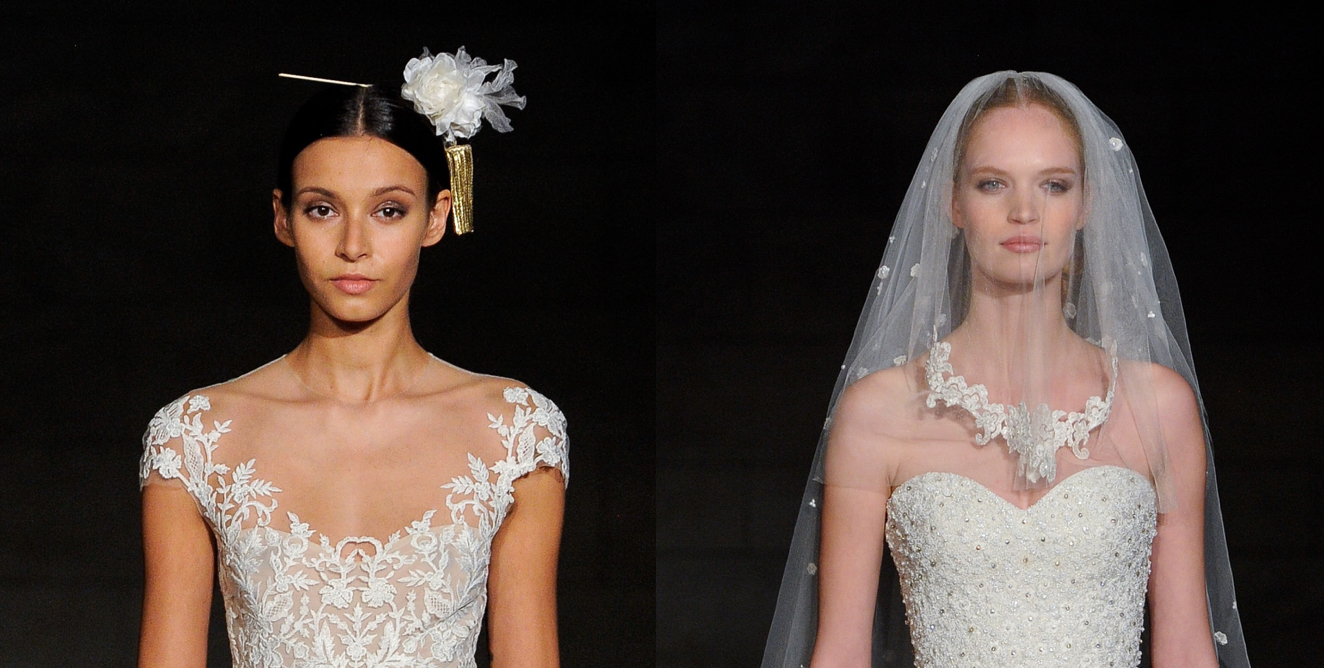 REEM ACRA: Jewel Tones & Soft Twists
Of course veils are sheer, but that doesn't mean they don't have the power to obscure the hair and makeup beneath them. That's why the beauty at Reem Acra, led by the power teams at Sassoon Salon and Bobbi Brown Cosmetics, was such a triumph. Dewy jewel tones – a mashup of lavender and taupe that ringed the eyes - was both romantic and sexy, and complemented Acra's traditional white and colored frocks. The hair was center-parted, but braided and twisted at the nape, a hard/soft juxtaposition that really worked. Powerful enough to draw focus through veils, but not overwhelming, the beauty at this stunning show at the New York Public Library was, in a word, stellar.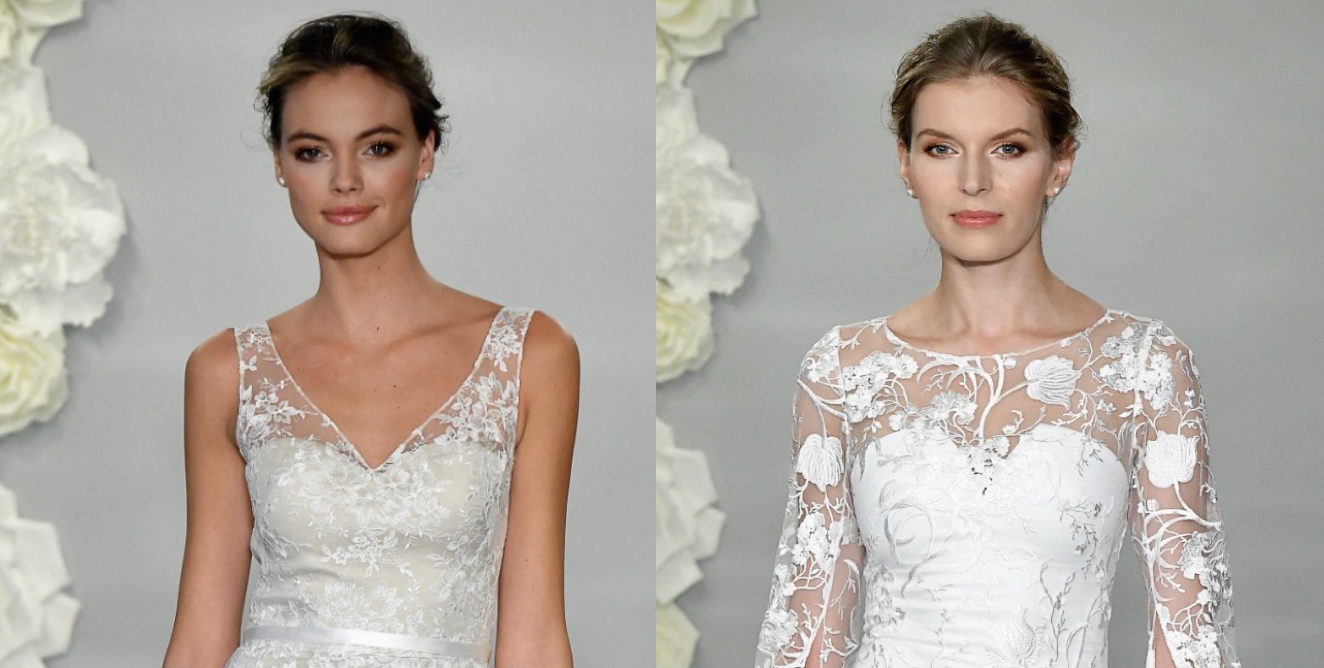 THEIA: Feminine Meets Frisky
You can't argue with pretty – it's a universal crowd-pleaser. This show featured softly textured buns that wouldn't look out of place on the heroine of an Edith Wharton novel. The monochrome, peachy-pink makeup palette looked fresh, especially with the different textures at play. Glossy lips, a dot of white shadow at the inner eye, and oodles of highlighter under the eyes, this show seriously brought the girly.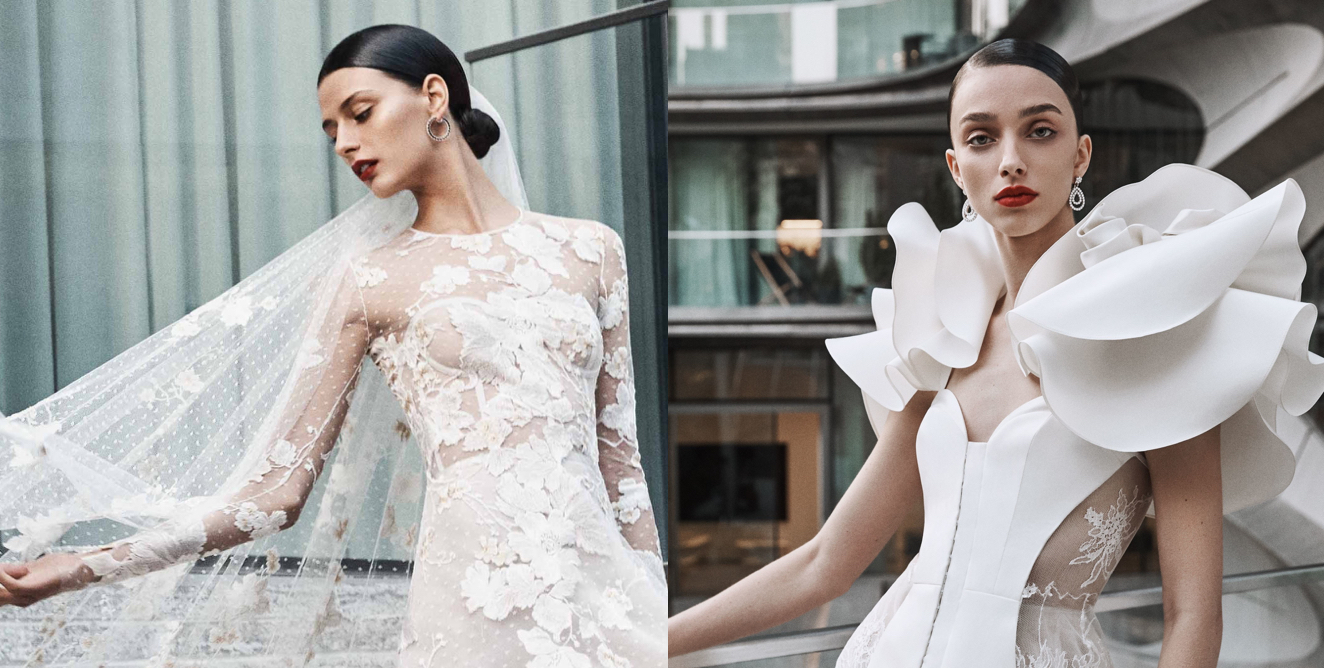 NAEEM KHAN: Futuristic Femme Fatale
As sleek as it gets. Looking like they just stepped out of an early 90s Robert Palmer video, the models at this presentation sported super shiny buns with deep side parts, executed with major precision by hairstylist Joseph DiMaggio. The makeup, by Chika Chan for Make-Up Pro, featured multi-dimensional shadow, flawlessly contoured complexions and – the cherry on top – matte crimson kissers. This beauty look was super-sophisticated, ideal for the fashion-obsessed, extra-bold bride.