Makeup Trends Brought to You By Five Seriously High-Profile Brides
AS REPORTED BY DANA WOOD, BEAUTY DIRECTOR

Pippa, Miranda, Julianne - a very diverse crew of beauties tied the knot in recent months, each with her own special take on 'Big Day' macquillage. We asked makeup artist Alexis Ferro, lead trainer for Blushington NYC, to walk us through each look. Feel free to steal an idea or two for your own trip down the aisle.
THE BLUSHING BRIDE: Pippa Middleton
THE BIG DAY: May 20, 2017 at the spectacular 12th century St. Mark's Church in Berkshire, England.
THE LOOK: See-Through Foundation - While chatter swirled that Middleton applied her own paint and powder on this momentous occasion, it's more likely that Bobbi Brown makeup artist Hannah Martin did the honors. Either way, the overall effect – anchored by the sheerest veil of foundation - was charming,
THE DIY DO'S + DON'TS: If your skin's in great shape, feel free to opt for super-light complexion coverage - even tinted moisturizer. Steer clear of matte formulas though, says Ferro, and apply a light, even layer.
THE BLUSHING BRIDE: Emmy Rossum
THE BIG DAY: May 28, 2017, with a reception at New York's Guggenheim Museum, no less.
THE LOOK: Polished Earth Tones - Low-key but elegant, Rossum was basically a gorgeous version of the girl next door.
THE DIY DO'S + DON'TS: There are two tricks to nailing this eye look, says Ferro: Make sure your blush is equally soft – no brights – and blend to perfection. For a bit more punch than standard tans and browns, consider a shimmery bronze.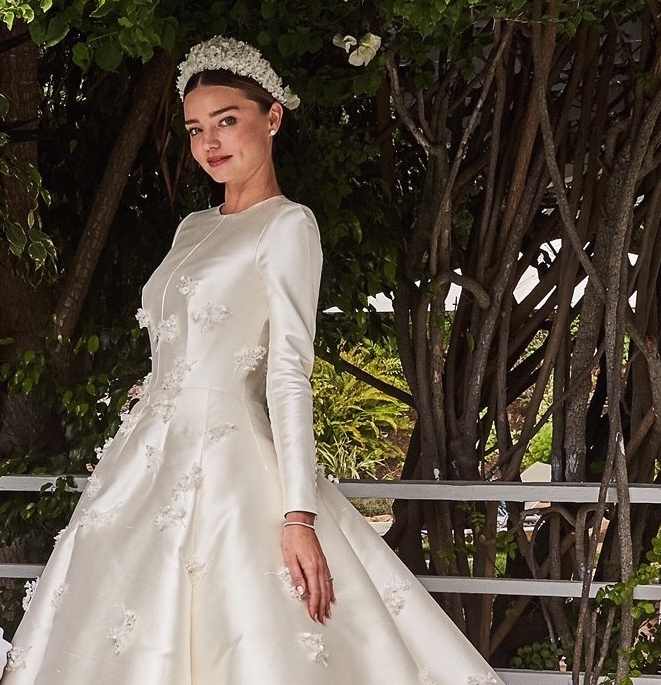 THE BLUSHING BRIDE: Miranda Kerr
THE BIG DAY: May 27, 2017 at the Brentwood, California home she shares with new-hubby (and Snapchat billionaire) Evan Spiegel.
THE LOOK: Layered Lipstick - Yes, it's true folks, Kerr did her wedding makeup herself. Opting for not one lone shade of lippy, but rather a mini bouquet, she layered ruby Charlotte Tilbury Walk of Shame with a lighter pink on top.
THE DIY DO'S + DON'TS: Ferro recommends starting with a base of clear gloss or Chapstick. Ferro suggests working your way from light to dark. If you wing it Kerr's way, "It will be hard to achieve the ultimate shade you're after," she says. Take it too far, and it will be hard to backtrack and lighten up.
THE BLUSHING BRIDE: Julianne Hough
THE BIG DAY: July 8, 2017, in a stunning outdoor bash on the scenic Lake Coeur d'Alene, Idaho.
THE LOOK: Power Brows - All eyes were on Hough's peepers, and the statement-making brows just above.
THE DIY DO'S + DON'TS: "Start at the outer 'tail' of the brow," says Ferro. "You don't want to start filling in at the front because that can look boxy and un-natural. Use a shade that's the closest match to your brows, and just do tiny, hair-like strokes to fill in, not bold lines."
THE BLUSHING BRIDE: Ekaterina Malysheva
THE BIG DAY: July 8, 2017, on the Greek island of Spetses.
THE LOOK: Dewy Skin - Marrying a prince (in this case, Ernst of Hanover) is the ultimate attention magnet, and Malysheva didn't disappoint. She literally glowed on her fairytale day, in the best possible way.
THE DIY DO'S + DON'TS: These days, it's easy to find a foundation or tinted moisturizer that delivers a radiant finish. Another option is a luminizing primer, like Ferro's favorite, Becca Backlight Priming Filter. "You can even try oil drops," she says. "Just skip any of the 'blurring' products – and matte, of course." Ferro's foundation applicator of choice? A Beauty Blender.