10 Questions with Mark Ingram
1) When did you open Mark Ingram Atelier?
I opened just after New Years in early January 2002. Plans were developed, contracts were signed and construction began in the shadow of 9/11. It was a very dark and terrible time, especially in NYC. I wasn't certain if anyone was thinking about marriage or weddings during this terrible time!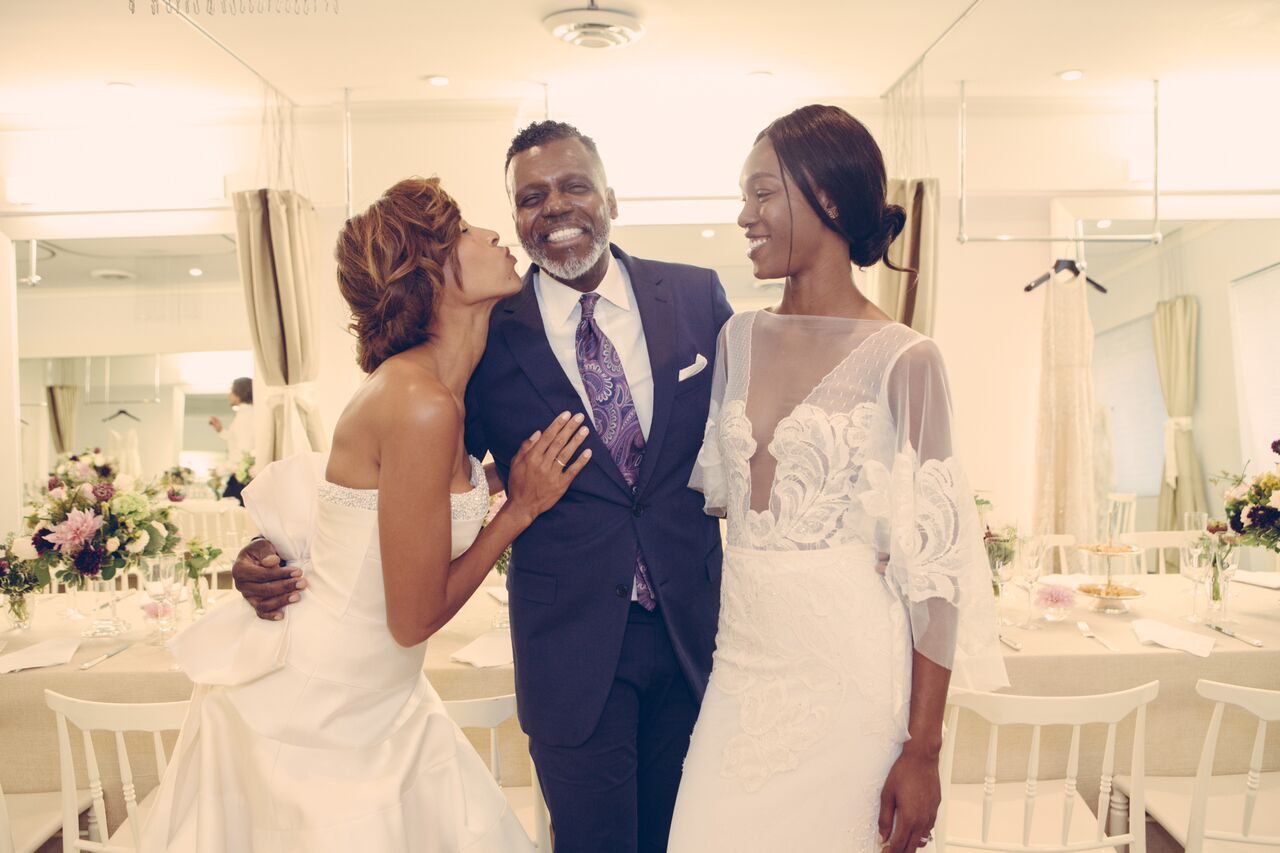 2) What was the biggest lesson you learned before you opened up your own store by working for others?
The biggest lesson I learned from my previous career and jobs, was how to treat employees. I had worked under many management styles, in corporate and for small entrepreneurs. I definitely wanted to create a fun, relaxed work environment where employees felt like family, could make autonomous decisions and feel like they were not micro-managed. I had felt suffocated under those situations and my creativity and natural inclinations were smothered.
3) What is your point of view as a retailer when making a buy?
When making my buys for the Atelier, I always remember that I have to keep a mix of classic, fashion forward and editorial looks. I am known to have unique pieces, high fashion and some of the best collections offered, plus a broad assortment. Of course I need to be commercial, and offer safe and classic styles to remain in business, but on the other hand I like to keep my fashion edge. I can't tell you how many fashion editors shop and buy from my salon.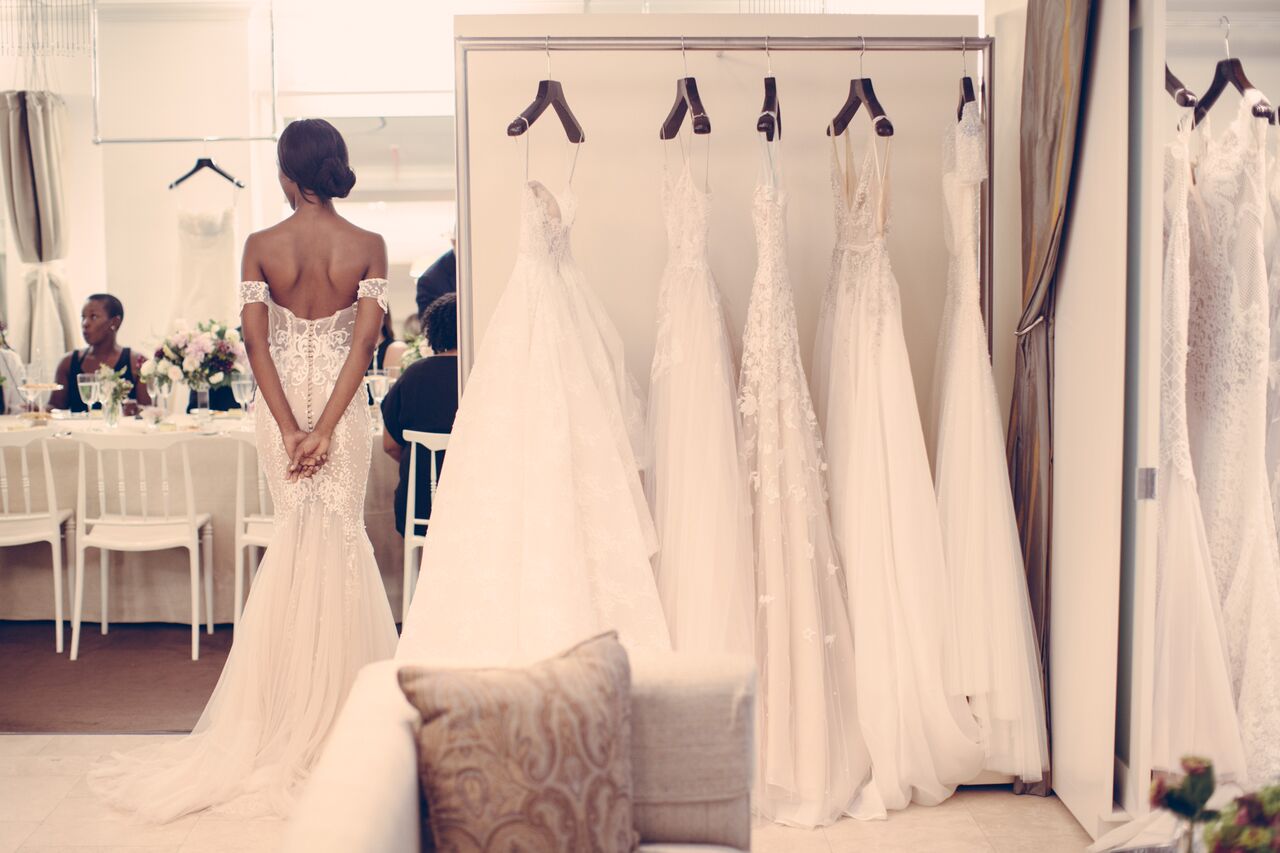 4) Who is your customer?
My customer is a big mix of local, out of town, and internationals. Mostly they are a fashion conscious, often fashion forward, girl who appreciates a high level of service, a large and very tasteful selection of gowns, but wants an intimate setting. We have dressed Arabian royals, African princesses, Latin American socialites and hosts of film, television and Broadway celebrities. And that all has been very exciting and fun. But most of our customers are lovely, upscale gals who want to look and feel truly beautiful, appropriate and comfortable.
5) What is the biggest change in the way the bride shops today?
The biggest change that I have seen in how customers shop is the amount of information that exists about gowns, designers, stores and experiences. It influences every brides shopping and selection process. There is almost too much information, so that it often makes the decision making process very complicated and delayed. The competition between designers, salons and experiences is intense. And so much product exists! There have been thousands of new entrants into the industry. It really keeps you on your toes!
6) Define what is the luxury experience means at your store.
We aim to make every experience at Mark Ingram luxurious, no matter what the price point or who the client. For me, it starts with the first point of contact with the bride. On the phone we try to manage her expectations, tell them about us and how we work. We do mention price range , brands carried and appointment length as that is appropriate. There is nothing worse than a bride arriving and finding out that we are above or below her price range, and don't carry the looks she is interested in seeing. A big part of a luxurious experience is the selling and sales staff. Our sales consultants are kind, professional and very informed about product and fit. There never is a feeling of being 'pushed into a sale'. Of course the surrounds need to be comfortable, clean, well-lit and private. That goes without saying!
7) How do you stand out from the rest of the stores in Manhattan?
When I created Mark Ingram Atelier, I knew it had to be a special place and/or experience. The competition in Manhattan alone was fierce, and there were about half as many boutiques then. I knew that I had to create a unique experience for NYC brides. Unlike my department store or single designer Madison Avenue boutique competition , I was privately owned and able to be freer with my merchandising strategy. My aim was to offer upscale brides a premium experience in an intimate location, with a large selection of dresses. Luckily I was able to achieve that. From my previous work experience in the industry, I had the early support of the best of the bridal designers and press. And very fortunately I was able to recruit some of the best selling and operating staff, most of which are still with me.
8) How does the timing of April and October New York Bridal Market work for you when it comes to designer delivery dates?
The timing of the April and October bridal markets have been an issue for US bridal retailers for several years. As product becomes more complex and manufacture taking longer, store samples are mostly received too close to the following market ( sometimes after!!) for owners and buyers to get a read on what is and what is not selling, before making the next seasons purchases. Simultaneously, with the advent of social media, brides are seeing the new product as soon as we do, which, for the record I believe is not a good thing for the entire clothing industry. And as brick and mortar retailers, we have little ability to satisfy the clients availability to see and try on the newest gowns. Lastly, the arrival of gowns ordered at October market arrive in the stores in very late winter / spring, at a time when our peak sales period is winding down, and our cash flow that enables us to pay for these goods in a timely manner is at a low. There has been much discussion about one market annually. In that case I would vote for April....actually late February would be ideal!
9) Do you think the New York Bridal runway shows are important for the buying choices you make?
The bridal industry has been trying to emulate RTW for years. Fashion shows have become more and more elaborate, scheduled so closely and often at locations that are difficult to reach. Buyers are exhausted from running up and down and around town. I think that my time would better spent in longer showroom appointments where I could make more intelligent decisions/purchases, more interfacing with the designers and interaction with my colleagues from around the country. I need to see product up close and personal. I need to see it on a model and on a hanger, preferably in a well-lit showroom as I am being fed lunch!
10) What trends are selling now?
We have been in a long period of nearly naked and sexy bridal gowns. As this look has trickled down and knocked off at every price point and aesthetic, my classic and fashion forward customer is looking for something different. One designer told me that gowns have gone so naked that the only way to go is backward. I think she was correct! I have already started to see a return demand of more classic, more covered and less embellished gowns. I started purchasing these types of gowns about a year ago as I saw a saturation of lingerie inspired, bare, nude lined, slinky lace dresses in the marketplace. In the past few months I have been having very strong sales on more tailored and less embellished gowns. This will mean a return of constructed fabrics like mikado, faille, taffeta, 4ply crepes, and dare I say SATIN! I have not sold or carried a satin gown in my atelier for years. In the high end designer bridal market, satin has completely fallen out of favor. I look forward to it's return, as there is nothing more beautiful and elegant as the rustle and luster of a duchesse satin ball gown!