10 Questions for Paris
AS REPORTED BY DEBRA MORELAND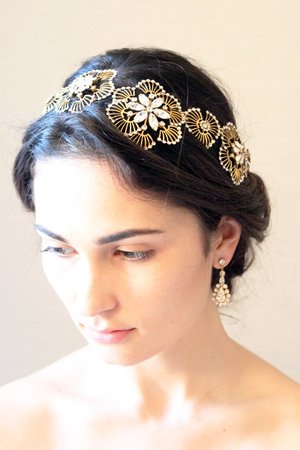 1) AS AN ACCESSORIES AND HEADPIECE DESIGNER WHAT IS YOUR OVER ALL VISION?
TO CREATE INTEREST THAT REVEALS THE WEARERS PERSONALITY AND AT THE SAME TIME, BALANCES AND COMPLIMENTS THE TOTAL LOOK.
2) WHAT MATERIALS ARE YOU KNOWN FOR AND WHAT NEW MATERIALS ARE YOU SHOWING THIS SEASON?
I AM KNOWN FOR HIGH QUALITY METAL MILLINERY AND COSTUME JEWELRY. I ONLY USE SWAROVSKI CRYSTALS AND PEARLS. THE WORK IS PLATED IN RHODIUM OR 14CT. GOLD. MOST LACES WE USE ARE FROM MILLS IN FRANCE BUT SOME WE USE ARE FROM AMERICAN MILLS. I HAVE LONG BEEN KNOWN FOR OUR HAND PAINTED FINISHES ON MY FLORAL WORK. FOR THE PAST FEW YEARS OUR PAINTED VEILS HAVE GAINED IN POPULARITY. THIS SEASON WE HAVE A NEW VEIL THAT IS BEING HAND PAINTED USING THE OLD MASTERS STYLE OF UNDERPAINTING IN UMBER, THEN BRINGING UP COLOR ON TOP OF THAT LAYOUT. WE ARE ALSO GILDING SOME OF THAT VEIL LIKE AN ILLUMINATION.IT WILL BE PAINTED USING A RESURRECTED HEADPIECE THAT I HAVE REWORKED THAT HAS ALWAYS BEEN A FAVORITE.
3) IS THERE A CERTAIN HOT NEW TREND IN HEADPIECES TODAY? WHAT'S AFTER BOHO CHIC?
THE TREND THAT HAS STILL NOT PEAKED IS GOLD. MOST OF MY NEW COLLECTION HAS SOME ELEMENT OF GOLD WORKED INTO IT. I FEEL MY COLLECTION HAS ALWAYS BEEN LESS TRENDY AND MORE A BRIDE'S BEING COMPELLED TO OWN IT. IF I HAD TO PUT A POINT ON IT TO A TREND I'D SAY, "STATEMENT HEADPIECES".
4) HOW MANY DIFFERENT WAYS CAN ACCESSORIES/HEADPIECES MAKE ONE DRESS LOOK?
AGAIN, I'D HAVE TO USE THE PERSONALITY OF EACH BRIDE. GOWNS CAN ALSO BE PUSHED TO BE MORE WITH ACCESSORIES OR PLAYED DOWN TO BE SPARE. A LACE GOWN CAN BE PUSHED TO AN OLD WORLD LOOK WITH A MANTILLA OR TIARA, OR OR MADE MODERN WITH CRYSTAL ORNAMENTS LIKE BOLD EARRINGS AND CUFF BRACELETS. OR FOR A CLASSIC LOOK, ENAMELED FLOWERS AND VEIL WITH LACE AT THE BOTTOM. THE VENUE AND EXISTING ACCESSORIES CAN ALL PLAY INT THE SETTING FOR THE BRIDES LOOK, A JUMPING OFF POINT THAT CAN BE SUPPORTED. AN ARCHITECTURAL GOWN IS MY FAVORITE TYPE TO ACCESSORIZE BECAUSE ANYTHING GOES!
5) WHAT BRIDAL DESIGNERS HAVE YOU COLLABORATED WITH? WHO THIS SEASON?
I HAVE CREATED COLLECTIONS FOR CAROLINA HERRERA, VERA WANG, PETER LANGNER, ROMONA KEVEZA, ANNE BARGE, BADGLEY MISCHKA, LAZARO, THIS SEASON I AM WORKING EXCLUSIVELY WITH ANNE BARGE.
6) WHAT IS YOUR ADVICE TO SALONS OR THE BRIDE FOR SELECTING THE RIGHT VEIL FOR THE DRESS?
MY ADVICE ON SELECTING THE PERFECT VEIL FOR A BRIDAL GOWN IS TO LOOK AT THE LINES OF THE GOWN AND THE TEXTURES OF THE DETAILING. TRY NOT TO DETRACT FROM THE OVERALL DESIGN BY CUTTING ACROSS THE MIDDLE ON THE BACK OF THE GOWN ESPECIALLY WITH VEILS THAT HAVE A DECORATIVE BORDER THAT CREATES A SEPARATE SILHOUETTE AND COMPARTMENTALIZES THE TOTAL LOOK. PICK UP LACE, CRYSTALS OR PAINTED DESIGN IN THE EDGING AND FINISH YOUR TRAIN WITH THAT EMBELLISHMENT. FOR A MORE FORMAL LOOK GO BEYOND THE TRAIN A FOOT OR SO AND FOR LESS FORMAL OR OUTDOOR WEDDINGS KEEP THE VEIL ON THE INSIDE OF THE GOWNS TRAIN.
7) TELL US ABOUT THE STUDIO, WHERE IT ALL HAPPENS, THE ARTISANS/FINE ARTIST THAT WORK FOR YOU THE CHARMS STORY FOR THEIR SIGNATURE. ALL MADE TO ORDER?
OUR STUDIO IS LOCATED IN CINCINNATI OHIO WHERE WE TRAIN PERSONS WITH DEGREES IN FINE ART. TO REPLICATE MY COLLECTION ACCORDING TO THE TECHNIQUES AND STANDARDS I HAVE DEVELOPED. EACH ARTIST IS GIVEN A METAL CHARM THAT REPRESENTS HIS SIGNATURE THAT EACH COMPLETED ORNAMENT IS MARKED WITH. THIS ALLOWS US TO TRACE ALL PIECES EVER CREATED AT PARIS BY DEBRA MORELAND BACK TO INDIVIDUAL ARTISTS AS EACH CHARM IS RETIRED WHEN THAT ARTIST LEAVES OUR EMPLOY. EACH YEAR I CREATE TWO NEW COLLECTIONS THAT ARE REPLICATED FOR OUR ACCOUNTS. THE COLLECTION SPANS NEARLY THIRTY YEARS AND SURPRISINGLY MOST ARE STILL ABLE TO BE PRODUCED. ALL PIECES ARE CUSTOMIZABLE ,I.E.. GOLD, RHODIUM CAN BE SWITCHED. IVORY OR WHITE, OR SOUTH SEA PEARLS CAN BE SWITCHED. ALMOST ANY COLOR CRYSTAL CAN BE USED, AND WE CAN CUSTOM MIX OUR HAND PAINTED FINISHES FOR BOTH ORNAMENTS AND VEILS. WE ARE ABLE TO SIZE ALL OUR NECKLACES AND BRACELETS OR REDUCE OR ENHANCE THE SCALE OF THE HEADPIECES AND ORNAMENTS. REALLY, SINCE WE ARE A DESIGN HOUSE MOST ANYTHING GOES.
8) WHAT CELEBRITIES HAVE WORN YOUR PIECES FOR THEIR WEDDING? DO YOU HAVE A FAVORITE STORY?
LAUREN CONRAD, TAYLOR SWIFT, GIULIANA DEPANDI, DEIDRE HALL, JULIA LOUISE-DREYFUS, WINONA RYDER, OPRAH WINFREY, CYNDI THOMSON, DEBBIE GIBSON, KIRSTIE ALLEY, JENNY MCCARTHY, REBECCA ROMIJN, LORRIE MORGAN, DANICA PATRICK. WE DISCOVERED THAN LAUREN CONRAD IS A QUITE A FAN AND THAT SHE USED ONE OF OUR PARIS ACCESSORIES ON THE BACK COVER OF HER BOOK, "STARSTRUCK".
9) WHAT HAVE YOU LEARNED BY PARTNERING WITH BHLD FOR YOUR BUSINESS?
THE BHLDN EXPERIENCE HAS REALLY HONED MY DESIGN SKILLS IN KEEPING THE PENCIL SHARP AND REINVENTING WAYS TO MAKE SIMILAR LOOKS MORE COST EFFECTIVE AND HAS OPENED UP A WHOLE HOST OF OF NEW TECHNIQUES . ALSO THE VOLUME OF THE PURCHASE OPPOSED TO THE REORDER RHYTHMS OF BRICK AND MORTAR STORES HAS CAUSED US TO REWORK HOW WE APPROACH PROJECTS TO CONSOLIDATE MULTIPLES AND OTHER FACTORS THAT DRIVE COST.
10) HOW IS THE BRIDE DIFFERENT TODAY THAN WHEN YOU STARTED YOUR BUSINESS?
TODAYS BRIDE IS MORE INDEPENDENT AND LESS CONCERNED WITH WHAT PEOPLE WILL THINK AND INTO THEIR OWN PERSONAL STORY AND UNIQUE WEDDING IN GENERAL. THEY ARE MORE OPEN TO WHIMSY AND FOLLOW THEIR HEARTS ON ACCESSORIES THEY PERSONALLY LOVE. THIS HAS ALWAYS BEEN THE CORNERSTONE OF MY DESIGN AND I'M LOVING HOW WELL THIS FITS MY STYLE. I DESIGN FROM THE HEART TAKING INSPIRATION FROM WHEREVER THAT INFORMATION COMES FROM AND OVER THE YEARS TRUSTING MY HEART HAS ALWAYS SERVED ME WELL.