10 Questions with Bridal Shoe Designer, Jessica Bedard
1) TELL US WHAT INSPIRED YOU TO DESIGN A WEDDING SHOE COLLECTION?
I WAS INSPIRED BY THE LACK OF CHOICE WHEN I WAS GETTING MARRIED SO I SET OUT TO DESIGN A COLLECTION THAT EMBODIES ALL OF THE TRADITION, CELEBRATION AND BEAUTY OF LOVE.
2) IS THIS YOUR FIRST COLLECTION OF SHOES?
YES
3) WHERE DID YOU STUDY SHOE DESIGN?
I AM FRENCH-CANADIAN, BUT I STUDIED DESIGN IN NEW YORK CITY AND MILAN, LEARNING AND WORKING WITH THE MASTERS AT THE RENOWNED ARSUTORIA SCHOOL OF DESIGN.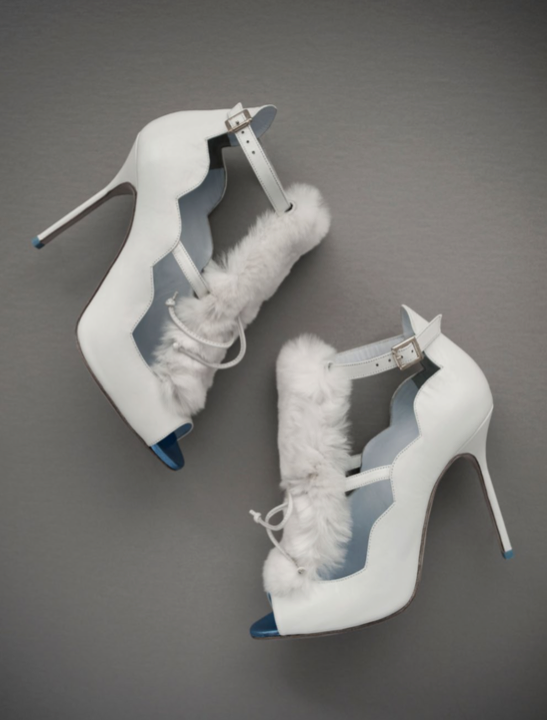 4) DESCRIBE THE MATERIALS, AND STYLES? WHAT IS THE POINT OF VIEW?
MY JESSICA B BRIDAL COLLECTION IS FOR A MODERN BRIDE. SHE'S ELEGANT, SEXY, FEMININE AND ENTIRELY UNIQUE. EACH PAIR OF MY SHOES FEATURES LUXURIOUS MATERIALS AND METICULOUS CRAFTSMANSHIP. THEIR CONTEMPORARY YET TIMELESS DESIGN MAKES THEM WEARABLE LONG AFTER THE WEDDING. I THINK ITS A STYLISH PAIRING FOR MANY OUTFITS TO COME AND I THINK THE COLLECTION FEATURES STUNNING STYLES FOR ALL SEASONS.
5) WHAT TYPE OF BRIDE ARE YOU GOING FOR?
I THINK EVERY BRIDE SHOULD HAVE THE PERFECT SHOE FOR HER SPECIAL DAY. LIKE HER DRESS, THE ACCESSORIES AND THE FLOWERS, HER SHOES SHOULD BE AS EXCEPTIONAL AS SHE IS.
6) WHERE ARE THESE MADE?
MY SHOES ARE MANUFACTURED IN ITALY AT A WORLD-RENOWNED FACILITY THAT PRODUCES SOME OF THE HIGHEST QUALITY FOOTWEAR IN THE WORLD. I DESIGN THE SHOES WITH A TEAM OF PROFESSIONALS WHO EXECUTE AND MANAGE EVERY DETAIL OF THE PRODUCTION PROCESS; FROM MATERIALS AND COMPONENTS, TECHNICAL CONSTRUCTIONS, THROUGH TO ENGINEERING TECHNIQUES AND MANUFACTURING. ALL OF THE TEXTILES AND MATERIALS ARE METICULOUSLY SOURCED FROM ITALY AND THE FINEST MARKETS OUTSIDE OF THE COUNTRY.
7) DESCRIBE THE "SOMETHING NEW "AND "SOMETHING BORROWED" COMPONENT TO THE SHOES? HOW DOES THAT WORK?
EACH PAIR OF MY JESSICA B SHOES FEATURES SOMETHING OLD, SOMETHING NEW, SOMETHING BORROWED AND SOMETHING BLUE IN EVERY SHOE! TO REPRESENT SOMETHING OLD: THE TRADITION IS BEAUTIFULLY ETCHED ON THE SOLE OF EACH SHOE. FOR SOMETHING NEW: WELL IT'S YOUR JESSICA B SHOES! SOMETHING BORROWED: THE SOLE OF THE LEFT SHOE CONTAINS A MAGNETIC RING AND SOMETHING BLUE: YOU CAN EASILY RECOGNIZE A JESSICA B SHOE BY THE LIGHT PASTEL BLUE TIP OF THE HEEL.
8) ANY SPECIAL STORIES ABOUT THE SOMETHING BORROWED?
YES THERE IS, AND VERY SPECIAL I THINK. BEFORE THE BRIDE'S WEDDING - FOR GOOD LUCK IN HER MARRIAGE - THE BRIDE CAN REMOVE THE RING AND SHIPS IT BACK TO US IN A SMALL ENVELOPE THAT WE TUCKED INTO THE SHOE BOX. THIS RING IS THEN USED ON ANOTHER PAIR OF SHOES DESTINED FOR ANOTHER JESSICA B BRIDE!
9) WHERE ARE YOU BASED?
CANADA
10) WHAT ARE THE PRICE POINTS?
THE PRICE RANGES FROM $650 TO $1300.