10 Basic Instagram Do's and Dont's For Bridal Retailers
THERE ARE SO MANY WAYS A RETAIL STORE CAN PROMOTE THEIR BRAND, BUT WHICH WAY WILL GIVE YOU THE MOST BANG FOR YOUR BUCK? SINCE THE DIGITAL AGE BEGAN IN THE 1990's IT'S BEEN AN IMPORTANT TOOL FOR RETAILERS TO SPEAK WITH POTENTIAL CUSTOMERS. A WEBSITE IS PRETTY MUCH AN ESSENTIAL MARKETING TOOL WITH YOUR CONTACT INFORMATION AND IMPORTANT THINGS BRIDES SHOULD KNOW: LIST OF DESIGNERS YOU CARRY, UPCOMING TRUNK SHOW DATES AND HOW TO MAKE AN APPOINTMENT. AND OF COURSE YOU NEED PRETTY PICTURES. A LOT OF THEM.
PHOTOS, OF YOUR STORE, DRESSES YOU CARRY AND REAL BRIDES WEARING GOWNS THEY BOUGHT AT YOUR STORE CAN BE VERY POWERFUL SELLING TOOLS, AND YOU SHOULD UPDATE THESE IMAGES REGULARLY. IF NOT EACH WEEK, THEN AT LEAST MONTHLY.
WITH THE CREATION OF INSTAGRAM YOU CAN HAVE A FULL GALLERY OF THESE IMAGES – AND MORE – AT YOUR CUSTOMERS' FINGERTIPS, BUT IT'S IMPORTANT TO KEEP IN MIND THAT INSTAGRAM IS ONE TOOL AT YOUR DISPOSAL. (THERE'S ALSO FACEBOOK, PINTEREST, YOUR OWN BLOG, SNAPCHAT AND EVEN TWITTER, THOUGH THE LATTER ISN'T AS POPULAR WITH BRIDES AS IT ONCE WAS.) AND MORE AND MORE DESIGNER-OWNED SALONS AND RETAILERS ARE LEARNING THAT THEIR CONSUMERS ARE COMING IN BECAUSE OF SOMETHING THEY SAW ON INSTAGRAM.
THIS STORY WILL FOCUS ON INSTAGRAM AND THE BRIDAL COUNCIL, AND I'M SURE WILL TOUCH ON THE OTHER SOCIAL NETWORKS AND DIGITAL MARKETING OPPORTUNITIES IN FUTURE ARTICLES. HERE ARE 10 THINGS TO KEEP IN MIND WHEN INSTAGRAMMING YOUR BUSINESS.
1) WHAT'S YOUR HANDLE? THE @___ THAT PEOPLE WILL REFER TO YOU AS. IF IT'S NOT THE NAME OF YOUR BUSINESS MAKE IT AS CLOSE TO IT AS POSSIBLE. NOTHING IS MORE FRUSTRATING FOR A CONSUMER THAN HAVING DIFFICULTY FINDING WHO OR WHAT THEY'RE LOOKING FOR. AND SPEAKING OF YOUR ACCOUNT, CONVERT YOUR INSTAGRAM ACCOUNT TO A BUSINESS ACCOUNT. THIS WILL ALLOW YOU TO INCLUDE A CONTACT LINK RIGHT AT THE TOP OF YOUR PROFILE PAGE, AND YOU'LL FINALLY GET TO SEE ANALYTICS OF YOUR POSTS. THE NEW INSTAGRAM ANALYTICS FEATURE LETS YOU SEE WHICH POSTS ARE DOING BETTER THAN OTHERS, THE MOST POPULAR TIMES AND DAYS YOUR POSTS ARE BEING SEEN, THE LOCATION OF YOUR FOLLOWERS AND THEIR AGES.
2) IT DOESN'T MATTER WHEN YOU POST THESE DAYS BECAUSE INSTAGRAM NO LONGER SHOWS FEEDS IN A CHRONOLOGICAL ORDER OF WHEN THEY WERE POSTED. THEY WILL RANDOMLY ASSIGN YOUR POST TO PEOPLE'S FEEDS AS THEY SEE FIT. SO EVEN IF YOU POST LATE AT NIGHT, IT WON'T NECESSARILY GET BURIED.
3) ALWAYS TAG THE APPROPRIATE PEOPLE IN THE IMAGE AND/OR POST. DESIGNER NAMES, PHOTOGRAPHERS, REAL BRIDES AND WEDDING PLANNERS ARE ALL RELEVANT TO THE POSTS AND CAN HELP YOU SPREAD THE POST TOO. ALSO, IF YOU ARE REPOSTING OR REGRAMMING AN IMAGE YOU HAVE TO MENTION THE ORIGINAL POSTER'S HANDLE. IT'S INSTAGRAM ETIQUETTE TO DO SO.
4) KEEP YOUR CAPTION SHORT AND TO THE POINT. YOU DON'T HAVE TO GIVE A DISSERTATION ON EACH ONE. A CAPTION CAN BE ONE OR TWO WORDS, AND EVEN ONE EMOJI CAN CONVEY YOUR THOUGHTS. AND DON'T FORGET TO INCLUDE HASHTAGS: THOSE COLORED WORDS WITH A # IN FRONT OF THEM (EX: #WEDDINGDRESS) IS KIND OF LIKE A KEYWORD IN GOOGLE SEARCHES. THEY'RE USUALLY A COMMON DESCRIPTIVE TERM THAT CAN HELP BOOST YOUR POST BEING SEEN WHEN ANYONE, NOT JUST YOUR FOLLOWERS, SEARCH IT ON INSTAGRAM. LIMIT YOUR LIST OF HASHTAGS TO THREE WITHIN THE CAPTION. IF YOU WANT TO INCLUDE MORE TERMS YOU CAN ADD A COMMENT AND LIST ALL OF THEM THERE. IT WILL LOOK NICER. YOU CAN ALSO CREATE A SPECIAL HASHTAG JUST FOR YOUR REAL BRIDES AND USE IT ON EACH REAL WEDDING POST TO ENCOURAGE OTHERS TO USE IT TOO. SOME EXAMPLES ARE #MARKINGRAMREALBRIDE AND #REALCHICBRIDE (CHIC PARISIEN).
5) USE PHOTOS THAT PEOPLE WOULD WANT TO HEART. THINK ABOUT WHAT SOMEONE COULD LIKE IN THE IMAGE: THE SILHOUETTE, THE DESIGN DETAILS, THE VEIL OR HEADPIECE, THE BOUQUET, THE HAIRSTYLE, ETC. PLAY WITH YOUR POSTS AND TRY DIFFERENT THINGS TO SEE WHAT RESONATES WITH YOUR FOLLOWERS AND STICK WITH WHAT'S GETTING THE MOST ENGAGEMENT.
6) IF SOMEONE TAGS YOU IN A POST OR MENTIONS YOU IN A COMMENT, THANK THEM IN A COMMENT ON THEIR POST. IT'S SOMETHING NICE TO DO AND CAN FURTHER ENHANCE THAT RELATIONSHIP.
7) MAKE SURE YOU CARRY THE DRESS OR ACCESSORY YOU POST. INSPIRATIONAL SHOTS ARE GREAT TOO, BUT BRIDES WILL OFTEN USE FEEDS AS A CATALOG. IF IT IMPLIES YOU MAY CARRY A GOWN MAKE SURE YOU HAVE IT WHEN YOU POST, OR WILL HAVE IT AT AN UPCOMING TRUNK SHOW.
8) DON'T STEAL PHOTOS. ALWAYS CREDIT THE SOURCE WHETHER IT'S AN INSTAGRAMMER OR A WEBSITE OR MAGAZINE. IT'S ALWAYS NICE TO ASK FOR PERMISSION, BUT NOT EVERYONE DOES. YOU'RE LESS LIKELY TO GET "YELLED AT" BY SOMEONE IF YOU AT LEAST CREDIT THEM AS THE SOURCE. YOU NEVER KNOW, THEY MAY BECOME A GOOD CONTACT FOR FUTURE IMAGERY.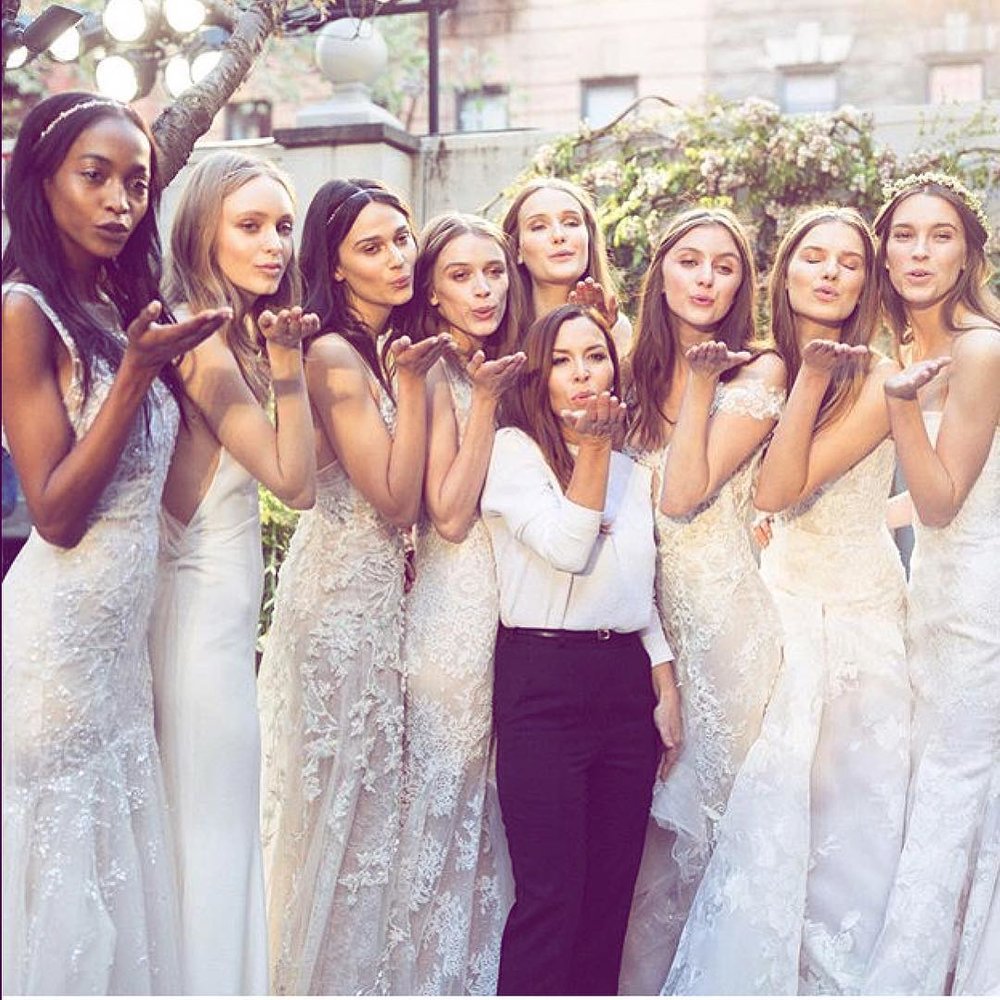 9) DON'T GET IN THE HABIT OF COMPARING YOURSELF TO OTHER INSTAGRAMMERS, AND IF YOU DO MAKE SURE IT'S AN APPLE-TO-APPLE CORRELATION AND NOT AN APPLE TO WATERMELON. IF YOU'RE AN INDEPENDENT RETAILER IN MIDDLE AMERICA YOU'RE PROBABLY GOING TO HAVE LESS FOLLOWERS THAN A MEDIA COMPANY, LIKE @THEKNOT OR @STYLEMEPRETTY, WHICH HAS A MUCH WIDER CONSUMER AUDIENCE. GETTING FOLLOWERS FROM OTHER STATES WON'T REALLY HELP YOU BECAUSE WHAT'S THE LIKELIHOOD OF THEM SHOPPING AT YOUR STORE, RIGHT? FOCUS ON YOUR MARKET, INCLUDING OTHER LOCAL BUSINESSES YOU CAN TAG AND SUPPORT AND THEY CAN TAG AND SUPPORT YOU TOO. AND DON'T GET DISCOURAGED IF YOU SEE OTHER PEOPLE HAVE MORE FOLLOWERS OR LIKES/COMMENTS THAN YOU'RE GETTING. FOCUS ON WHAT YOUR CONTENT IS AND GET GOOD AT FINDING BEAUTIFUL IMAGES AND THE PEOPLE WILL FOLLOW. REMEMBER FIELD OF DREAMS? IF YOU BUILD IT, THEY WILL COME.
10) AN INSTAGRAM ACCOUNT ISN'T ESSENTIAL. WHILE A LOT OF PEOPLE ARE DOING IT, AND IT CAN BE FUN, IT'S ALSO TIME CONSUMING AND CAN STRESS YOU OUT. DECIDE IF YOU WANT TO HAVE AN INSTAGRAM FEED AND IF YOU CAN DEVOTE THE RESOURCES TO IT. DON'T JUST ASK THE INTERN TO POST FOR YOU BECAUSE HE OR SHE MAY NOT UNDERSTAND YOUR BRAND OR THE INDUSTRY – AND SOME DON'T HAVE GREAT WRITING SKILLS EITHER. YOU'LL DO MORE DAMAGE TO YOUR BRAND BY HAVING A BAD FEED THAN NOT HAVING ONE AT ALL. SO MAKE A DECISION AND DECIDE ON A STRATEGY BEFORE SIGNING UP. OR HIRE A PRO TO DO IT, EITHER AN INTERNAL MARKETING/PR PERSON, THE PUBLIC RELATIONS AGENCY YOU'RE WORKING WITH OR A SOCIAL MEDIA EXPERT WHO HAS A GOOD TRACK RECORD IN THE WEDDING SPACE.